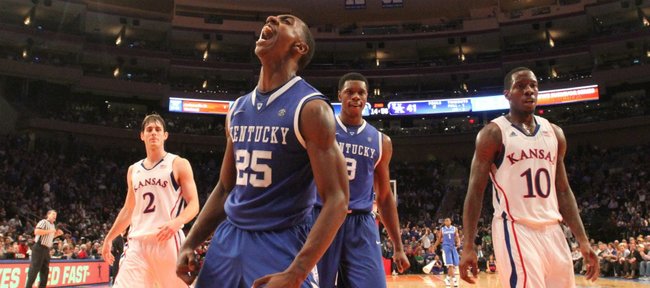 Podcast episode
Kansas coach Bill Self talks to reporters following the Jayhawks' 75-65 loss to Kentucky on Nov. 15, 2011.
KU vs. Kentucky
New York — The winningest college basketball program of all time looked quite a bit better than No. 2 ... at least on Tuesday night.
Kentucky's roster full of future NBA millionaires used a 15-2 second-half run (that stretched to 24-7) to bust a halftime tie en route to a 75-65 victory over Kansas University in the nightcap of a Champions Classic doubleheader in Madison Square Garden.
The Wildcats led by as many as 17 points — 54-37 with 10 minutes left — before KU staged a late rally.
"They are so talented one through seven. I really think they'll be amazing," KU senior point guard Tyshawn Taylor said.
Playing close to his Hoboken, N.J., home, he scored a game-high 22 points off miserable 3-of-13 shooting. The 6-foot-3 senior, who had five of his shots blocked, did get fouled enough to account for 15 of 17 free-throw shooting.
Backcourt partner Elijah Johnson went 3-of-11 on a night the Jayhawks hit 33.9 percent of their shots to the Wildcats' 51 percent.
"They are so tall, and they get out and go," Taylor said. "We competed. We played well at times. We just didn't take care of the ball (14 turnovers to UK's 19). It sucks to lose, but it's a learning experience. It's not like our season is over.
"I feel like I just lost a championship, but really we're just two games into the season. We'll learn from this. Kentucky is young, but we are inexperienced, too."
KU coach Bill Self thought his No. 12-rated Jayhawks (1-1) were in good position to spring an upset with the score knotted at 28 at halftime.
"I thought we'd win the game at halftime. Our players thought we'd win the game," Self said, "then they punched us in the mouth. A tie game goes to nine. Playing from behind is not something you want to do against a team like that."
UK used an 11-0 run to bust a 30-30 tie and grab a 41-30 advantage. The run expanded to 15-2 and 45-32. After the run reached 24-7, the game for all intents was over.
Guard Doron Lamb had 12 of his 17 points in the second half, while guard Marquis Teague had 11 the second 20 minutes. Kentucky hit six of nine threes the second half.
Forward Terrence Jones, Anthony Davis and Michael Kidd Gilchrist had 15, 14 and 12 points respectively.
"I'm not discouraged at all," Self said. "We put ourselves in position to have a lead at halftime. We didn't get it (and), we didn't finish. …
"We tried hard, but we didn't compete. We didn't have focus, weren't disciplined, got flustered, went and did our own thing."
Of Taylor, Self said, "I thought Tyshawn competed hard. He was a competitive joker out there today. Our offense was so poor, we told 'em to spread it and drive it every time. It's why he got to the free-throw line so much."
Of junior Thomas Robinson, who had 12 rebounds and 11 points, Self said: "I didn't think he handled it (pressure) well at all. It also was the first time he was the hunted instead of the hunter. He relied on doing things himself."
Robinson said: "I didn't listen to coach. I didn't listen to the game plan. I didn't get in the flow of the offense like I am supposed to. Kentucky has a lot of talent. They're going to be a good team. It was our first time facing something like that. We will learn from it."
KU will meet Georgetown at 11 p.m. Central time Monday in Maui.
In the crowd
Former KU players Mario Chalmers, Julian Wright, Cole Aldrich, Russell Robinson, Ryan Robertson and Kevin Pritchard attended, as did comedic actors Paul Rudd (wearing a KU hat) and Jason Sudeikis (sporting a "Rock Chalk Jayhawk" sweatshirt). Former KU AD Lew Perkins and current Chancellor Bernadette Gray-Little also were in the Garden, as well as recruit Isaiah Lewis, a junior point guard from Christ the King High. KU has offered Lewis a scholarship. Director Spike Lee and coach Doc Rivers also attended.
This, that
KU junior newcomer Kevin Young played just two minutes. He's not injured. It was coach's decision. ... Junior Travis Releford had just four points with five turnovers in 28 minutes. ... Jeff Withey had seven points and six boards. Self said he was impressed with Withey's game as well as the game of Justin Wesley (five rebounds, five points).