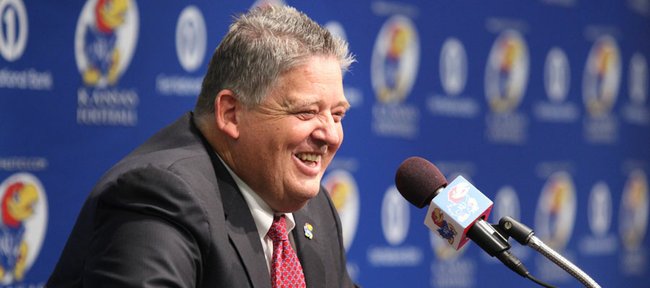 Charlie Weis was introduced as the new head coach at Kansas during a press conference on Friday afternoon at the Anderson Family Football Complex.
Though it's not finalized yet, KU athletic director Sheahon Zenger said the contract would be for five years and is expected to be for around $2.5 million per year.
Weis said he first met with Zenger on Thursday morning.
"I think I would have been foolish to not come on board (at KU)," Weis said.
Weis began by discussing his family's situation. His wife, Maura, and 16-year-old daughter, Hannah, will continue to live in Florida, where Hannah has the best care for her developmental disorders.
Weis said he was looking forward to the challenge of turning KU into a winner. He even joked that he was hoping to retire at KU so that the Jayhawks could hire a cheaper Charlie Weis (his son).
Charlie Jr. will transfer to KU from Florida.
Charlie Sr. promised that KU's conditioning program would be ramped up starting in January.
"It's not going to pleasant around here in the springtime," Weis said.
No specific timeline was given for competing the staff, but both Zenger and Weis indicated it would be completed quickly.
"That's totally up to Coach," Zenger said. "I'm now back to being an AD."
Weis said that KU running backs coach Reggie Mitchell would be retained and that he had already begun the process of assembling the rest of his staff.
The new coach said he would talk to all of KU's current assistant coaches during the process.
Weis indicated that coaching fit would be important.
"I could give you a conga line of some of the best coaches that want in here," he said.