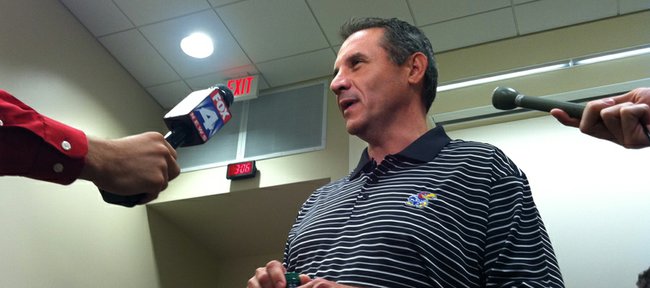 Videos
KU defensive coordinator Carl Torbush retires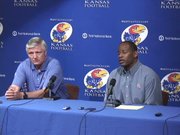 KU defensive coordinator Carl Torbush announced his retirement Tuesday, May 31, 2011 after being recently diagnosed with low grade prostate cancer. Head coach Turner Gill named cornerbacks coach Vic Shealy as the new defensive coordinator. Defensive line coach Buddy Wyatt has been promoted to co-defensive coordinator.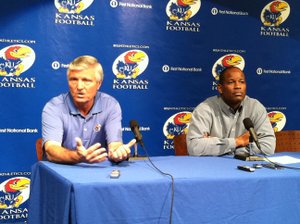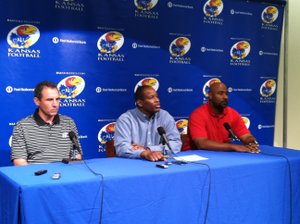 Kansas University assistant football coach Vic Shealy can recall a time from middle school when he would watch a linebacker on his father's college team at Carson-Newman College and think to himself that players just didn't get any tougher than that.
That linebacker's name was Carl Torbush, and Tuesday afternoon Shealy succeeded him as the defensive coordinator at KU.
Torbush, 59, announced his retirement from football Tuesday morning after recently being diagnosed with low-grade prostate cancer. The 37-year coaching veteran with the classic southern accent who spent one year on head coach Turner Gill's staff at KU said he would remain in Lawrence to treat the cancer and then would return home to Tennessee with his family.
"It's tough because you feel like you're jumping out of a boat, but you don't really mean to," Torbush said Tuesday. "It got me thinking in a lot of different ways, and I just felt like for my future, for my family's future and where I'm at in life right now, this was the perfect time to back away and retire from football."
Torbush first told Gill of his health concerns about three weeks ago. At the time, Gill was shocked. Just telling Gill the news was the hard part for Torbush.
"It was kind of like going into the principal's office," said Torbush, once again referencing Gill as the main reason he came to KU. "I didn't really want to go in there, but I needed to breathe deep and go in there and do what I needed to do. It was a tough meeting."
In addition to naming Shealy as Torbush's replacement, Gill promoted defensive line coach Buddy Wyatt to co-defensive coordinator.
After Gill's concern for Torbush's health, which the second-year KU coach said was, hands down, the most important aspect of all of this, his mind focused on one thing.
"The main thing is continuity," Gill said. "We really felt that was very important because I thought we had made a tremendous amount of progress from about the second half of the (2010) season all the way through spring football. As a team, we improved, particularly on defense."
Because of that, hiring from within was a no-brainer for Gill.
"There's no question that I didn't (look beyond) our staff because I knew that we had people already on our staff who were capable of being defensive coordinators," Gill said.
Ultimately, Shealy will have the final say in all defensive matters. Gill made that clear during a news conference Tuesday. But he said Shealy and Wyatt would work together closely and that he believed they'd be a good match because they're so similar.
"The great thing about coach Shealy is he has experience, he understands how to attack the spread offenses, and his players have always responded in a great way as far as being developed," Gill said. "I know he's a person that has a pressure defense. Those are the things that excited me about him, and, really, it's almost a similar thing as I would say with coach Wyatt. They're very similar in those ways."
Stepping into the defensive-coordinator spot at Kansas will mark the fourth time in Shealy's 30 years of coaching that he has filled such shoes. In addition to a stint as the head coach at NAIA Azusa Pacific, Shealy has been the defensive coordinator at Austin Peay, UNLV and, most recently, Richmond, his alma mater. Shealy also spent time as the defensive-backs coach at Air Force.
Widely respected as one of the great X's and O's guys in the game, Shealy, 49, accepted the position with a heavy heart and vowed that most things he would do would be based on the foundation that Torbush put in place.
"Much of what was established a year ago will stay in there," Shealy said. "Carl has a vast knowledge. When you've been around as long as he has, you'll know a lot about something or a lot of things. Everyone was just searching for what fit our personnel. We will come back in and narrow some things down that stay consistent with the baseline that we started with."
Though he hails from the south, like Torbush, Shealy, a native of Nashville who was raised in South Carolina, admitted that it would be difficult for him to pick up where Torbush left off in the entertaining-accent department.
"He's his own beast on that one," Shealy said with a laugh. "He'll go to his grave and people will still be hearing his voice. But hopefully that grave is still 40 years off."
Wyatt, 44, has one of the most extensive coaching resumes on the KU staff. A defensive-line coach everywhere he's been, Wyatt's journey has included stops at TCU, Minnesota, Oklahoma State, Northwestern, Colorado, Texas A&M;, Alabama and Nebraska. Like those around him at Kansas, he learned a lot from Torbush.
"He gets the most out of everybody around him," Wyatt said, "whether it's coaches or players or just the way he treats people. He's up-front with you. He tells you exactly what he expects from you and what he wants to get done. He has experience in a lot of different defenses. He runs a lot of different split coverages, and he's knowledgeable about all of them. I think I've learned some of that variety from him. He did a good job. He's a good football coach."
Asked why he thought Gill believed he and Shealy would work well together, Wyatt pointed to the similarities between KU's new co-defensive coordinators.
"We're very similar in our philosophy," Wyatt said. "Vic's background is pressure and being aggressive, and that's the same background that I come from. I want to try to dictate what the offense has to do instead of them dictating to us what we need to do. We're just similar. And we're all in this together."
Torbush's departure leaves the Jayhawks one assistant short. Gill said he was in the process of filling that spot with a linebackers coach, Torbush's specialty.
"That's the plan," Gill said. "I'm looking at that position, and I want to make sure we've got the right person. I'd like to get something done by the end of this week. I'd like to get somebody hired and get ready to roll."