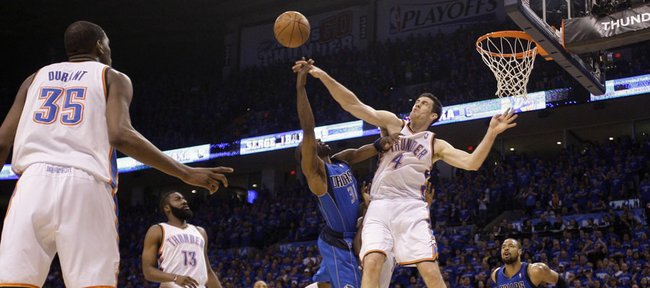 Oklahoma City power forward Nick Collison, who signed a lucrative, creative four-year contract extension last November, made a grand total of $13.3 million during the 2010-11 season.
The 6-foot-10 former Kansas University standout — he guarded Memphis' Zach Randolph in a victorious seven-game Western Conference semifinal series and Dirk Nowitzki in a five-game loss in the finals — worked hard for the money.
"It's the best postseason I've had overall," Collison, who averaged 6.7 points, 5.8 rebounds and 24.3 minutes in 17 Thunder playoff games, said in his postseason exit interview available on nba.com.
"I've had some good stretches. I almost averaged a double-double for two years but on non-winning teams," Collison added.
The eight-year veteran averaged 9.6 points and 8.1 rebounds for Seattle in 2006-07 and 9.8 points and 9.4 boards in '07-08 — Collison's last season in Seattle before the franchise moved to OKC.
"This was the most fun I've had playing just because in the playoffs we're playing for more (on) a bigger stage I guess. It's the best I've felt the last couple years for sure."
The 30-year-old Collison — he'll make $3,272,997 next season, $2,929,332 in 2012-13, $2,585,668 in '13-14 and $2,242,003 in '14-15 — missed training camp as he rehabbed from last May's arthroscopic knee surgery.
He went on to average 4.6 points and 4.5 boards in 71 regular-season games.
"I think going into the season I didn't know what to expect. You are always a little apprehensive if you have surgery," Collison said. "Not being able to go to training camp there's always in back of your mind, 'Am I going to be able to come back the same?'
"Early in the year I didn't feel great, but I felt I was probably going to be OK. By the end, my body felt a lot better. I had more spring in my legs. I was able to jump better. I wouldn't say I had a roller coaster year because it mostly went up for me, but I went through a lot this year for sure."
He said the past season was his most rewarding.
"The success we had in being part of a team that won as many games as we did (55-27 regular-season mark) ... to get to the Western Conference finals is the first thing that pops into my mind as the best year of my career," he said.
He believes the Kevin Durant-led Thunder will get better.
"This year we made more steps. The natural progression is to want more," Collison said. "The biggest thing is not to just say we want to move on. Everybody wants to have a chance at a championship. The key is the teams that can put in the work and get better in the process of 'every day.' That's what we've been good at so far."
Collison plans on working hard this summer in preparation for next season — a season in limbo because of the impending lockout.
"For me personally, when I was young I worked out a lot but I ate whatever I wanted. I didn't eat terribly, but it wasn't like I thought about it as it related to basketball," Collison, the second-leading scorer in KU history, said. "My second or third year in the league, I realized everything I do is affecting kind of the outcome of my career, where I want it to go. I got better eating habits.
"I always worked hard in the weight room. I've had that since college. Over time, the accumulative affects of that make a difference in your body. My body fat is lower than it was in college, which is strange for a 30-year-old guy. It's about forming habits and it becomes easy because it's your habit now. You live and take care of your body."
For an article explaining Collison's contract situation in detail, read http://espn.go.com/blog/truehoop/post/_/id/22025/inside-collisons-unique-contract-extension.
Workouts
KU's Brady Morningstar will work out for the Utah Jazz today with BYU's Jackson Emery, Westminster's Michael Stockton and Virginia's Mustapha Farrakhan. Morningstar has said he will likely play in Europe next year if he doesn't land a spot in the NBA. ... Marcus Morris will work out for the Indiana Pacers today.
More like this story on KUsports.com