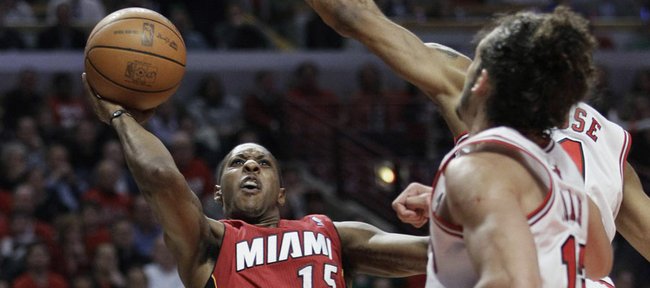 Miami — Mario Chalmers, whose Kansas Jayhawks defeated Derrick Rose's Memphis Tigers in the 2008 NCAA championship game, did not gloat after once again emerging victorious against Rose, this time in the 2011 NBA Eastern Conference finals.
"I just told him to keep his head up and keep working," Chalmers told the South Florida Sun-Sentinel in the wake of his Miami Heat's 83-80 series clinching victory over Chicago Bulls.
"He had a great series," Chalmers added of a series won by Miami, four games to one.
Chalmers hit the crucial three-point shot that forced overtime in KU's 75-68 victory over Memphis in '08 in San Antonio.
That's the game in which KU battled back from a nine-point deficit with two minutes left in regulation.
Thursday, Chalmers knocked down a key three-pointer in the third quarter. A reserve guard, he watched from the bench as the Bulls blew a 12-point lead in the final three minutes.
"Big flashback," Chalmers told the Sun-Sentinel.
He was asked to pinpoint the common thread between the KU comeback and the Miami comeback.
"Just big plays being made," Chalmers said. "Our defense picked it up, and we were hitting big shots. "(We were) refusing to accept defeat. That's the main thing."
Rose, who missed a big free throw late against KU, missed a possible game-tying free throw with 26.7 seconds left Thursday. The Bulls' star came up short this time, while Miami's big three of LeBron James, Dwyane Wade and Chris Bosh starred down the stretch.
"I expect that from them," Chalmers said of stellar play in crunch time. "They always turn it on when the game is on the line, especially D-Wade. I've been with him my whole NBA career and I've seen him do some amazing stuff. I wasn't shocked at all."
Game One of the NBA Finals between the Heat and Dallas Mavericks is set for 8 p.m., Tuesday in Miami. Chalmers' role?
"I just try to that spark off the bench. I try to change the game and make it easier for everybody else out there," Chalmers said.
According to his Mario V Chalmers Foundation Website, the third-annual National Championship Golf Classic will be Aug. 5 at Alvamar.
The Associated Press contributed to this report.
More like this story on KUsports.com