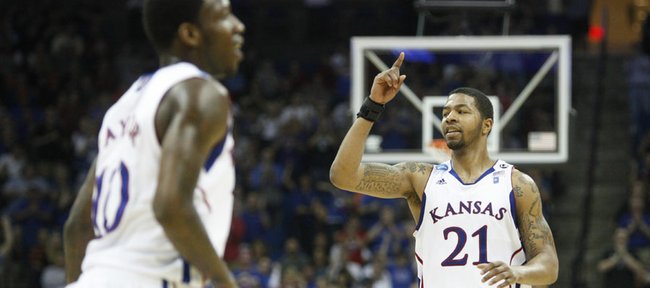 Former University of Arizona forward Derrick Williams, who is expected to be selected No. 1 or 2 in the 2011 NBA Draft, has received no ringing endorsement from Kansas University's Markieff Morris.
"I didn't think he was as good as advertised," Morris told the Washington Post, referring to the 6-foot-9, 250-pound sophomore, who had a 27-point, seven-rebound outing in an 87-79 loss to KU in last November's Las Vegas Invitational.
"He got the benefit of the calls from the ref, and we had to guard him different. He definitely had a good game against us, because we couldn't guard him how we wanted to guard him, and that's what happened," added Morris, who scored 15 points with three rebounds versus U of A. Twin brother Marcus Morris had 16 points and nine boards.
Of Williams being expected to go in the top two, Markieff told the Post: "It still surprises me. What he did to Duke (32 points, 17 boards in NCAA Tournament victory), he wouldn't do that to me or my brother. I'm dead serious. He wouldn't. At all. He's good. But if we were to work out, I would go at him, and I would be able to stop him more than people would expect, you know what I mean."
The Washington Post article received a lot of play on the Internet Friday. It even drew special mention on thebiglead.com.
Markieff, by the way, will work out for the Utah Jazz on Sunday in Salt Lake City.
Good game for Withey
KU junior-to-be Jeff Withey scored 18 points and grabbed eight rebounds in Athletes In Action's 101-62 victory over the Macedonian national team on Thursday in Macedonia. Withey and KU senior-to-be Jordan Juenemann are in Europe playing for the college all-star team.
"He played real strong. I was proud of him. I can really tell he is having a great time," Juenemann said of the 7-foot Withey in Juenemann's blog at kuathletics.com.
"The whole world revolves around beating us," Juenemann added of competition on the trip.
Daniels rumor mill
Oklahoma radio talk-show host Greg Swaim reports that prize prospect DeAndre Daniels may now be considering attending Oklahoma State.
"We're now hearing DeAndre Daniels likes the thought of playing with (incoming freshmen) LeBryan Nash and Cezar Guererro at Oklahoma State," Swaim wrote Friday on Twitter.
Daniels, 6-8 from IMG Academies in Bradenton, Fla., has had a final list of KU, Texas and Oregon for some time now. Daniels said Thursday that San Diego State was also in the mix.
More like this story on KUsports.com