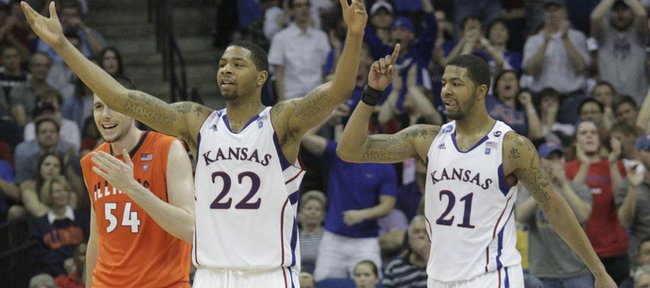 Twins update
Former KU forwards Marcus and Markieff Morris worked out for the Houston Rockets on Tuesday.
The Rockets pick at Nos. 14 and 23 of Round One, meaning they could wind up with both of the twins.
"Yeah, I hope so," Marcus Morris told myfoxhouston.com. "But I don't see either one of us falling that late."
Interviewed before the workout, they listed their goals for the day.
"Show them I'm a hard worker, versatile like everyone else knows, and I would love to be in Houston," Marcus Morris said.
"Just be able to score the basketball more. I was a defender and a rebounder at Kansas, and I'll continue to do that in the league," Markieff said.
ESPN's Chad Ford has Marcus being selected No. 11 overall by the Golden State Warriors and Markieff No. 16 by the Philadelphia 76ers. Draftexpress.com has Marcus at No. 9 to Charlotte and Markieff No. 13 to Phoenix. NBAdraft.net has Marcus No. 11 to Golden State and Markieff No. 14 to Houston.
UCLA, UNLV, Arizona and Texas.
Daniels update
DeAndre Daniels, a 6-8 senior forward from IMG Academies in Bradenton, Fla., gave a recruiting update to Steve Kyler of Hoopsworld.com on Thursday.
Kyler on Twitter reports that Daniels "backed away from Duke ... says San Diego State, Kansas and Oregon (are) on his radar."
Notably missing from the list was Texas. It was recently reported that Daniels was down to KU, Texas and Oregon.
A source close to Daniels responded to these Twitter developments Thursday by saying, "I don't think DeAndre has eliminated any of his finalists," meaning Texas still would be on the list.
UCLA, UNLV, Arizona and Texas.
Shabazz has seven
Shabazz Muhammad, a 6-5 junior from Bishop Gorman High in Las Vegas, tells cbssports.com his list stands at seven schools: KU, Kentucky, Duke, UCLA, UNLV, Arizona and Texas.
Rules
The NCAA Playing Rules Oversight Panel on Thursday approved adding an arc three feet from the basket, inside which a defender cannot take a charge. In other rules changes, the women's three-point line will move back a foot to 20 feet, 9, same distance the men have used since 2008-09. The terminology for fouls will be changed to match the NBA. Intentional fouls will now be called Flagrant 1 and flagrant fouls will be called Flagrant 2.
More like this story on KUsports.com