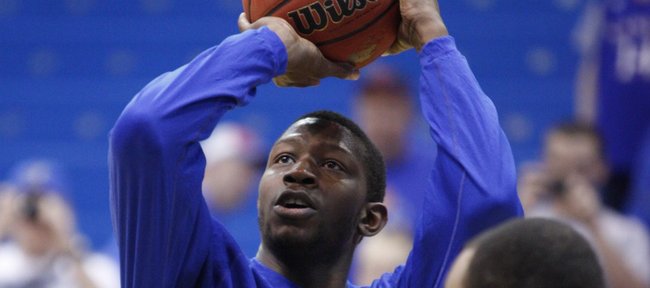 Mario Little, who in grammar school once brought home a report card with straight Fs, today graduates from Kansas University.
"This is something I didn't think I would do 10 years ago. I grew up doing stuff I wasn't supposed to do at times," said Little, a KU senior basketball guard/forward from Roseland — one of the roughest neighborhoods on the South Side of Chicago.
"People from my area ... all my life, they said I couldn't do it. It wasn't common to graduate. I kind of beat the odds," added Little, an African American Studies major who today becomes the second member of his family to receive a college degree, joining a cousin who attended Purdue.
Little — he turned his academic career around with the help of mentor/Countee Cullen Elementary School coach Tommy Dobson, who told him he couldn't play ball if he didn't make the grade — does not want to dwell on the naysayers.
He'd rather focus on supporters responsible for his wearing a cap and gown and marching down Campanile Hill into Memorial Stadium today.
"My grandmother ... when it was hard, I thought of her. She wanted me to graduate. Basically, I could have given up, but I didn't because of her," Little said of 85-year-old Hazel. "My uncle guided me. He mentored me and tried to show me the right path to go down," Little added of uncle O'Keefe, who delivers pizza back in Roseland.
O'Keefe and Hazel both will be in Memorial Stadium cheering on Mario as he concludes his tenure at KU today.
"I told the coaches that this is all I wanted from Kansas," O'Keefe said. "Everything else is gravy. Everything else is extra. He'll need a degree to get through life.
"We are ecstatic and proud of Mario. He had little to no chance of succeeding without Kansas," O'Keefe added.
Reigning junior college player of the year Little arrived from Florida's Chipola Community College in the summer of 2008 with the minimum amount of credit hours necessary to transfer.
He knew he had some work to do to earn a sheepskin at a major academic institution.
"In my very first meeting with Mario, he said he really, really wanted to graduate," said Scott Ward, KU associate athletic director/academic and career counseling.
"That was part of him wanting to take that red-shirt year, to put himself in a really good position to do that. He thought if he red-shirted, he could focus on academics and finish up while he was here. It was his goal. He stuck to his word, stuck to his guns. He always did what was asked of him and had a good attitude about it."
Little, who played the 2008-09 season at KU, red-shirted the next, then concluded this past season, said today would not have been possible without KU's academic support system.
"I thank my tutors. For us to practice hours and hours of basketball ... if we just went to our rooms, we'd probably fall asleep," Little said. "Going to meet with our tutors is the best thing for us."
Little does not plan on using his degree for a while. Undecided about a career path that may or may not involve coaching, he wants to play professional basketball.
"My first plans are the NBA. That's been my goal since childhood. I'll try to pursue that. If it doesn't work out, I'll go overseas," said the 6-foot-6 Little.
KU coach Bill Self believes Little will play for pay next season.
"Everybody back home in Chicago would be proud of Mario. He not only got his degree from Kansas, but a chance to put himself in position to play professionally. Hopefully he'll make a nice living doing that," Self said. "He's been through a lot in his lifetime. I'm very proud of Mario. He came from junior college and had to buckle down and he did that. He persevered and got it done."
Reed to graduate as well: Burlington senior guard Tyrel Reed, who completed his degree requirements in exercise science (with a minor in business) at semester, also graduates today. A third senior on KU's team, Brady Morningstar, graduated last spring.
"Tyrel has been amazing. To already be accepted to KU Med for PT (physical therapy) school is quite an accomplishment. He's an Academic All-American, which speaks for itself right there," Ward said.
"As a Kansas kid he represented the state in the best way — with class all the way. I'm impressed how he handled himself as a student, as a Kansan, as a Jayhawk."
Noted Self: "Tyrel is winningest player all-time at Kansas and first-team Academic All-American. The only thing that would have made his senior year more complete would have been his second (national) championship. Needless to say I'm so proud of Tyrel and his accomplishments at Kansas," added Self, who will be at the graduation ceremony today.
More like this story on KUsports.com