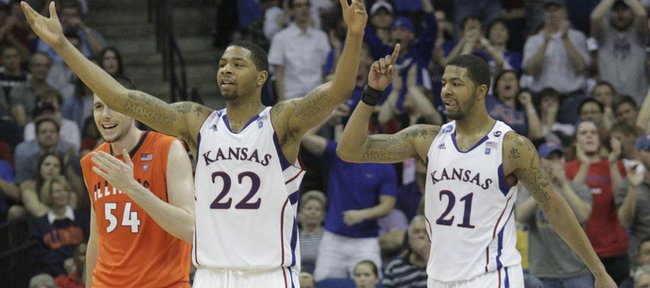 NBA measurements
Kansas University's Morris twins and Josh Selby are attending the NBA pre-draft camp in Chicago. Here are their official measurements:
Markieff Morris: Height: 6-7 3/4 without shoes, 6-9 1/2 with shoes. Weight: 241 pounds. Body fat: 10.2. Wingspan: 6-10 3/4. Reach: 8-10 1/2.
Marcus Morris: Height: 6-7 without shoes, 6-8 3/4 with shoes. Weight: 230. Body fat: 8.0. Wingspan: 6-10. Reach: 8-9 1/2.
Josh Selby: Height: 6-13⁄4 without shoes, 6-3 with shoes. Weight: 195. Body fat: 7.9. Wingspan: 6-5 1/4. Reach: 8-2.
NBAdraft.net's assessment of the twins at combine
"Marcus insisted on working out with the small forwards and looked like he belonged. Despite his bulky frame, Marcus was effortless going through the drills, and his offensive polish was evident in the small sample size at the combine.
"Even more impressive was Markieff who looks like he is in phenomenal shape and is displaying what I would call a perfect skill set for the modern power-forward position. Markieff is beating the other PF's down the floor in wind sprints, is hitting his outside jumpers and is still a monster down low with his frame and footwork."
Here's ESPN.com's Andy Katz's take
"Josh Selby said he declared for the draft because he felt good about his game while working out with Joe Abunassar in Las Vegas after the season. It's strange that the decision came down to his offseason workout.
"Marcus Morris said he wanted to be with the small forwards more than the power forwards for two reasons: that's more his natural position and he wanted to be separate from Markieff. He said they need to be judged separately in a setting like this."
Better mark
Marcus was happy to see his wingspan listed at 6-10. His wingspan was measured at 6-7 at last summer's LeBron James camp.
"I read somewhere I had 'T-Rex arms,''' Morris said in an interview posted on draftexpress.com. "I said, 'What? I have naturals.' I felt my stock was dropping because they said my arms were short. I read I have a 6-7 wingspan. I thought, 'I'm 6-9. Is that even possible?' It's amazing how many spots you can drop in the draft because they say your arms are short. Now it's 6-10. I'm fine with that."
Marcus joked about likely being apart from his brother next season for the first time.
"Hopefully one of us will become a superstar in the league and we can demand a trade and get one of us to the other team," Marcus said. "It's going to be hard. I'll send him some fruit, some flowers and stuff like that, tell him I'm thinking about him. That's my guy."
They may have to guard each other in games.
"We're getting paid to play. I can't let him score points," Marcus said. "That'd be like I was shaving points. You get in trouble for shaving points."
More like this story on KUsports.com