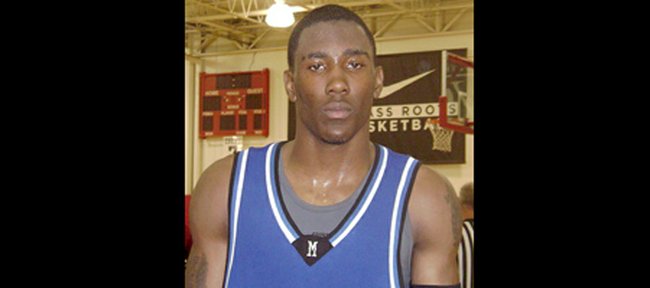 Jamari Traylor, who played basketball his senior year of high school in Bradenton, Fla., was born and raised on the South Side of Chicago.
"I grew up near Dearborn and State Street, right next to Sox Stadium, U.S. Cellular Field. I'd walk over there a lot and go to (White Sox) games," said Traylor, a 6-foot-7, 220-pound IMG Academies power forward who Wednesday signed a national letter of intent with KU.
South Sider Traylor, who attended Julian High School of the Public League his junior year, played last spring and summer for Chicago's Mean Streets AAU program.
The late bloomer, who didn't start playing organized basketball until his sophomore year of high school, flourished for Mean Streets. He played on the same team as future college players Anthony Davis (6-10, Kentucky), Phil Greene (6-2, St. John's), Branden Dawson (6-6, Michigan State) and Dee Davis (5-10, Xavier).
"That team was loaded," said Mean Streets coach Jevon Mamon. "When you are playing with the type of guys who will play in the Big East, SEC, Big 10, you elevate your game. Jamari did that.
"Some of the dunks that he pulled out ... his athleticism and strength, dunking over people ... coming out of nowhere and getting rebounds ... he is a guy who is so athletic. He rebounds his butt off, runs the floor well and has great hands. His game has so much potential as he continues to grow as a player."
Traylor averaged 20 points, 12 rebounds and three blocks this past season at IMG. He chose KU over Oklahoma State, Indiana and Texas Tech.
"I think Jamari can definitely come in and compete and contribute at the elite level — at KU," Mamon said. "I've had the pleasure of working camps in the past at KU, and I've seen firsthand how coach (Bill) Self and coach (Joe) Dooley and (Kurtis) Townsend and (Danny) Manning develop players. I think he'll flourish.
"The fans will love him," Mamon added. "Off the court, he's a very likeable kid. He has a great sense of humor. On the court, he turns into an animal. He is a warrior. He competes every possession. He is strong as an ox.
I don't think the people in Lawrence will skip a beat in terms of missing the (Morris) twins. I mean, I'm sure they'll miss them, but Jamari will bring a lot of the same qualities."
Traylor will give KU additional options in a frontcourt that includes juniors Thomas Robinson and Jeff Withey, freshman Braeden Anderson and sophomore walk-on Justin Wesley. Junior Travis Releford, at 6-6, could be used in the frontcourt as well as the perimeter.
"Thomas is probably going to be a lottery pick next year," Traylor said. "I know I can complement him, and he can complement me as well on the court. With us on the court, it should be really good."
Mum's the word: DeAndre Daniels, a 6-8 senior from IMG Academies, did not announce for KU, Texas or Oregon on Thursday.
IMG Academies had said Daniels would have an announcement Thursday morning, but that never materialized.
Daniels could decide today, or he could wait awhile.
He has let the spring signing period elapse, meaning he can only sign a financial-aid agreement, not a letter-of-intent.
The agreement binds the school to the player, but not the player to the school. Daniels in theory would be free to attend any school in the summer or fall.
Zagsblog.net has reported that Daniels' dad favors KU. It has been speculated Daniels may favor Texas, but the family has been silent through most of the recruiting process.
More like this story on KUsports.com