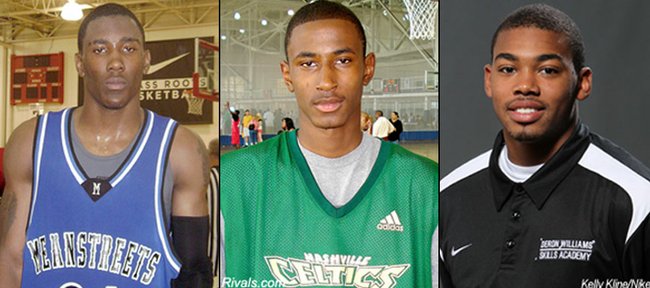 Jamari Traylor, who will arrive at Kansas University in a few weeks as the No. 141-ranked player in the class of 2011, in the eyes of at least one observer is much more accomplished than that.
"He is the best athlete in the 2011 class. You will see for yourself," IMG Academies director of basketball Andy Borman exclaimed Wednesday after Traylor, a 6-foot-7, 220-pound senior power forward, signed a letter of intent with KU.
"He is very similar to Amar'e Stoudemire of the Knicks, who is considered one of the best athletes in the NBA. Athletically, that's a pretty accurate comparison," added Borman, who played at Duke.
Traylor — he averaged 20 points, 12 rebounds and three blocks for IMG last season — chose KU over Oklahoma State, Indiana and Texas Tech. IMG teammate DeAndre Daniels, who was expected to sign with KU, Texas or Oregon Wednesday, instead postponed his decision a day. Another top KU target, Trevor Lacey, signed with Alabama on the final day of the spring signing period.
"I don't look at any ranking as anything to me. I don't feel that is accurate," said Traylor, a late bloomer who grew up playing football on the South Side of Chicago, not taking up basketball until his sophomore year of high school.
"I know I am a freak athlete who will never give up. I have a never-die attitude. I'm really physical. I dive all over the place. I hate to lose. I love to win. I try to do whatever I can to make that happen."
KU coach Bill Self noticed that during the recruiting process.
"He's a young guy that really wants to be good," Self said of the player who followed his high school coach and mentor, Loren Jackson, to IMG for his senior season after Jackson landed the coaching job at the Bradenton, Fla., school. "He's got a motor very similar to Thomas (Robinson), and he's an athlete that at 6-7 can basically guard all five positions. We think he will be an immediate and major contributor for us."
Traylor said he was sold on KU during his April 22-24 official visit.
"The campus ... I fell in love with it on the first day," Traylor said. "I like the way the coaches plan on using me. I like them as coaches. I like the players. They're a good group of guys as well.
"Coach (Danny) Manning is one of the best coaches as far as developing guys," added Traylor, who said he figures to play mostly power forward until he develops perimeter skills as well. "He has gotten a lot of guys to the NBA. Recently he's going to get the Morris twins in. Coach Self is driven for success. He can make me into a the best player I can be."
Analysts believe Traylor has a huge upside considering he took up basketball midway through high school.
"I was a football player until I met my coach, Loren Jackson. He put me on the court, where I guess I was a hit," Traylor said. "He said I had a lot of talent and could lead me into being a good player. I listened to him. He got me in position to make a success out of my life." added Traylor, who played for Jackson at Fenger High, Julian High and IMG.
Jackson — he said Traylor did well on his standardized test and after completing some coursework at IMG should qualify academically at KU — is proud of his prize pupil.
"KU can expect a great athlete that will provide high energy, interior toughness along with Thomas Robinson, and a young man that's going to work every day," Jackson said. "He's physically ready to play college basketball right now."
Self, of course, doesn't care about the ranking before his name.
"We were very fortunate in the spring period to get Braeden Anderson (power forward, Canada) and sign Jamari inside because they both give us immediate contribution and depth," Self said. "I really feel Jamari could be a sleeper that everybody will say, 'Where did you get him?' a couple of years from now in a similar way they did the Morris twins. He's very young basketball-wise. He's a sponge and wants to learn. I really think he's going to get good, fast."
Lacey is Bama-bound
Lacey, a 6-3 guard from Butler High in Huntsville, Ala., chose Alabama over KU, Auburn and Kentucky.
He sat at a table in his high school gym with caps from Alabama, Auburn, Kentucky and Alabama A&M; (the KU hat was missing) in front of him. He pretended he was signing his name and said, "I just signed with the University of Alabama."
He said he was awed by KU during his campus visit. "Just because every year they're a national championship contender," he said, noting he ultimately chose Alabama because, "it felt like home."
It's been rumored he may not qualify for college. "I wouldn't have signed if I couldn't have qualified," said Lacey, who said he made his decision three days ago.
Daniels delay
Daniels let the signing period close without inking with a school. That means this morning he can only sign a financial aid agreement, not a letter-of-intent with KU, Texas or Oregon. He in theory would be free to attend any school since he hadn't inked a letter-of-intent.
"The father wants to make sure DeAndre makes the right decision," Dinos Trigonis, Daniels' AAU coach, told Zagsblog.com. Zagsblog reports that Daniels' dad favors KU. Rivals.com's Jerry Meyer wrote Wednesday that Texas is the choice of Rivals.com's No. 10-rated player, but things, of course, could change.
Traylor, a good buddy of Daniels, said Wednesday he didn't know what school Daniels would pick. He said the two don't discuss recruiting at all.
More from Traylor
• "I am not going to put my game in a box and say I am just going to be an inside player. I want to be an all-around player. I think I'll play the 4 more than the 3."
• "I was rooting for KU in the (NCAA) Tournament this year. I was watching 'em. When I was at Julian (High), I knew it was one of the top schools."
• "My mom is ecstatic. She was jumping around on the phone."
• "I am 6-7 1/2, 215. I don't think I'm done growing."
Big picture
KU, which has three scholarships remaining, has a current class of Traylor, Anderson and guards Ben McLemore and Naadir Tharpe.
More like this story on KUsports.com