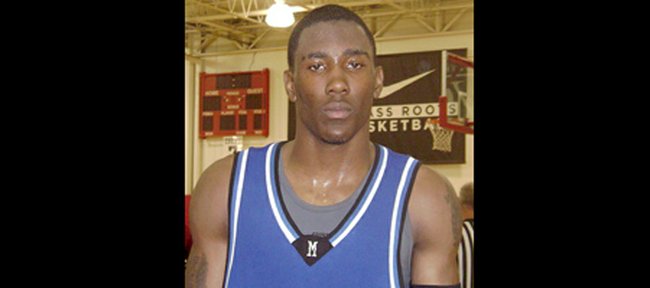 Jamari Traylor, a 6-foot-7 power forward from IMG Academies in Bradenton, Fla., announced plans to play basketball at Kansas University on Wednesday on the IMG Academies website.
The No. 141 player in the nation according to Rivals.com, chose KU over Indiana, Oklahoma State and Texas Tech.
"I really chose Kansas because on my visit, I sat down with (Kansas) coach (Bill) Self and coach (Kurtis) Townsend and the rest of the coaches ... I like the way they plan on using me," Traylor said. "I like them as coaches. I like the team. They're a good group of guys as well. As far as the campus, I fell in love with it on the day I came on my visit."
Last year as a senior at IMG, Traylor averaged 20 points, 12 rebounds and three blocks.
"I'm really proud of Jamari," Self said. "We have gotten to know him this spring and he's worked very hard in the classroom. He's a young guy that really wants to be good. He's got a motor very similar to Thomas (Robinson) and he's an athlete that at 6-7 can basically guard all five positions. We think we will be an immediate and major contributor for us."
Traylor said he would probably play power forward, but also will play some at the three position as his career progresses.
"I am really a physical guy," Traylor said. "I know how to finish at the rim. I really take pride in defense."
Traylor attended Chicago's Julian High until his senior year.
"We are so excited to sign Jamari," Self said. "He is a Chicago kid that spent the last year at IMG Academy and was coached by Loren Jackson, who is a coach that I have known since my days at Illinois and certainly have great respect for as he has coached several good Div. I players."
The 230-pounder visited KU from April 22-24, a week after visiting OSU.
"He is the type of player that plays bigger than his 6-7 frame because he gets off the ground so quickly and plays at the top of the block," Director of the IMG Basketball Academy Andy Borman said. "Jamari's a great kid with great character and will give a tremendous boost to any program."
Traylor joins Naadir Tharpe, Braeden Anderson and Ben McLemore in this year's KU recruiting class.
"We were very fortunate in the spring period to get Braeden Anderson and sign Jamari inside because they both give us immediate contribution and depth," Self said. "I really feel Jamari could be a sleeper that everybody will say 'Where did you get him?' a couple of years from now; in a similar way they did the Morris twins. He's very young basketball-wise. He's a sponge and wants to learn. I really think he's going to get good, fast."
More like this story on KUsports.com