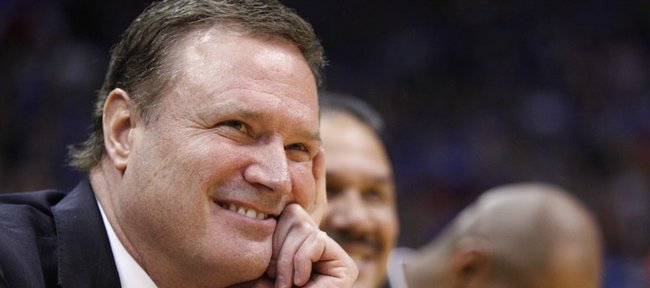 Already known for its place at the top of the school's athletic mountain, the Kansas University men's basketball program continues to carry the torch for the academic side of the university's athletics department, as well.
Tuesday morning, the NCAA and KU released the most recent Academic Progress Rate numbers and revealed that head coach Bill Self's squad was one of six programs at KU that delivered a perfect APR score of 1,000 during the 2009-10 school year.
What's more, the men's basketball program, known for being a perennial Final Four contender, was one of three KU programs (along with men's and women's cross country) to hold down a perfect score in the multiyear category, which tracks a team's academic progress from the past four seasons, in this case, 2006-07 through 2009-10.
"It's just a measure of how much men's basketball and these other staffs pay attention and concentrate and prioritize these factors," associate athletic director Jim Marchiony said. "We aim to be the best on the field and in the classroom and, in that case, we are."
Many have wondered whether Josh Selby's departure from the men's basketball program — the freshman guard declared for the NBA Draft last month — would hurt the team's academic status. KU's associate athletic director for student support, Paul Buskirk, said the NCAA, which introduced the APR system in 2003-04 as a way to enhance each institution's measure of academic success, provides universities with a list of scenarios that are exempt from harming the score. Medical hardship and extreme family circumstances are a couple of things on the list; advancing to play professional sports is another.
The APR numbers, which are based on a 50 percent retention and 50 percent eligibility scale, are not impacted negatively when a student-athlete leaves an institution because of one of those factors. Therefore, as long as Selby remained eligible in his classes while enrolled at KU, which, according to Buskirk and Self, he did, then the men's basketball program's APR number would not suffer because of his departure.
"The NCAA will only forgive that loss if, had the student-athlete stayed at the institution, he would've been eligible to compete," Buskirk said. "That's where coach Self has been extraordinarily consistent in his message to the students of, 'We'll support you in what you want to do, but you will take care of business while you're here.' And Josh has taken care of business while he's been here."
In addition to cross country and men's basketball's perfect four-year scores, three other programs, women's basketball, softball and women's tennis, registered a perfect score during the 2009-10 school year.
"It's just a reflection of how hard the coaches work," Marchiony said. "It's the coaches, it's the kids themselves, it's the academic counselors, it's the faculty and it's the tutors. Everybody shares in this success."
Buskirk said the easiest way to make sense of the APR system is by looking at it as a batting average. A score of 1,000 represents perfect performance and the degrees of success trickle down from there. According to the NCAA, a score of 925 or higher puts a program in good standing.
The latest multiyear numbers illustrate that all 18 athletic programs at KU are well above the 925 mark. In fact, the program with the number nearest to 925 was men's outdoor track, which had a multiyear score of 940. Of the 36 APR scores handed out this year — 18 for the multiyear score and 18 for the 2009-10 school year — only two fell below 925. Men's indoor track earned a 924 during the 2009-10 year and men's outdoor track earned a 917 during the same period. However, both had multiyear scores above 925.
"The short version is we are in great shape," Buskirk said.