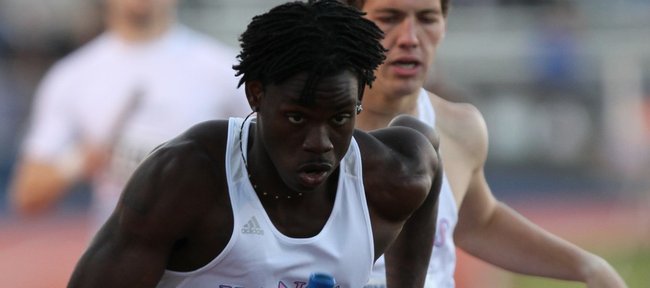 For a man so young, Keron Toussaint has seen the world from many angles.
First, he saw it as a boy growing up without his mother, under his father's supervision in the small Carribean island of Grenada.
Then, as he entered his teenage years, he moved to The Bronx, N.Y., where he joined his mother and sister and became a potential recruit coveted by hard-core street gangs. His mother looked into the future, didn't like what she saw for her son, and ordered him off to Lawrence after about a year, to live with his Aunt Netheli, then a professor at Kansas University.
Today, Toussaint is in Norman, Okla., where as a senior he'll run, among other events, the 400 meters for KU in the Big 12 championships. Toussaint hopes the future holds a spot on Grenada's 2012 track-and-field Olympic team. As for the present, he's thankful he has one.
"Moving to Lawrence was what's best for me," said Toussaint, a former Free State High standout. "I was kind of mad my sister and my mom were gone, but if I stayed in New York, I probably would have ended up dead or in jail."
Strong words, but he meant them.
He shared insights on what it's like straddling the fence of gang life.
"You can go up to someone, 'Hey, are you part of this gang? What do I have to do to join?' Or, you may have a friend who's part of a gang who will tell you, 'I think you should join,' and might offer you money or protection," Toussaint said. "A couple of my friends joined gangs in New York."
He never stepped onto that slippery slope.
"Often, you have to do something bad to get in," Toussaint said. "If that requires you robbing someone, if that requires you beating up someone just for the fun of it, or the gang will jump you in, which basically means they beat you up and that's your way in. Getting out of the gang is even worse and often results in death."
He would like to take all the credit for not starting on the road to ruin, but added, "I kind of couldn't because my mom and my aunties were always on my back. I really appreciate coming to Lawrence. It's a big difference. I don't have to deal with as much crime. The life is a lot slower. New York is so busy. New York was just too much for me."
Initially, upon enrolling at Kansas and joining Stanley Redwine's track program, Toussaint second-guessed himself. He was not used to doing any distance running during training sessions and didn't at first see the value in lifting weights three days a week.
"I was always tired," he said. "I thought I made a mistake. Now, when it comes down to it, I made a great decision. All the things I've done are paying off. My body's finally used to it and I'm a lot stronger, running a lot faster."
Last week in Arkansas, Toussaint ran a 46.8, knocking nearly a second off his personal-best time. He wants to drop another second, compete in the nationals in Des Moines, Iowa, ultimately represent his first country in the Olympics.
More like this story on KUsports.com