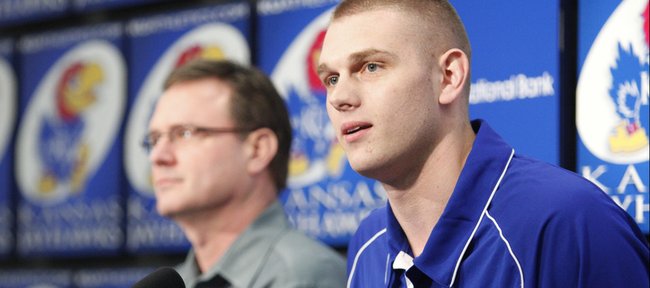 Former Kansas University basketball center Cole Aldrich of the Oklahoma City Thunder will hold a basketball camp for youths kindergarden through eighth grade from June 27-30 at Olathe Northwest High School. Aldrich will be assisted by former KU players Jeff Gueldner, Tyrel Reed and Mark Randall.
Registration forms are available at www.colealdrich.com/camp_2011.pdf
Clark speaks
Two-time Olympic bronze medalist diver Mary Ellen Clark was featured speaker at Friday's Midwest Sports Performance Conference at KU's Wagnon Student Athlete Center.
Clark is diving coach at Amherst (Mass.) College and Mount Holyoke College and also works with high school divers.
"It is a huge invitation for professionals like me to come in and see how they do it here," Clark said. "Let me tell you, how they do it (weight, flexibility training) here is pretty amazing. I just saw a facility that blew me away because there are machines here that I have never seen before and I am in the business."
Guest speakers Friday and today include Dr. William Kraemer, professor in the Department of Kinesiology at UConn; Jerry Martin, the strength and conditioning coordinator at UConn; Andrew Fry, chair of KU's department of health, sport and exercise sciences and K-State director of strength and conditioning Chris Dawson.
"I think everybody just brings so much to the table," Clark said. "It is the variety of people that are in this room that is making this conference a big deal."
Aggies' opening
Colorado basketball coach/former KU guard Tad Boyle is not interested in the head coaching vacancy at Texas A&M;, the Boulder Daily Camera reports.
The Aggies have contacted NBA TV analyst Jeff Van Gundy about the position. Van Gundy is a former Providence and Rutgers assistant who has coached the New York Knicks and Houston Rockets. He's from Houston.
"I enjoyed my three years in college coaching very much but it's been a long time," Van Gundy told 1050The Game in Houston. "A lot has changed. The AAU basketball circuit has changed. The proliferation of agents involved in college recruiting has changed, so there's a lot of things that have really changed incredibly since the last time I coached in college."
He told Texags.com Friday he's no longer a candidate.
Basketball school big for Turg
Former KU basketball manager Ann Turgeon, the wife of new Maryland coach/former KU guard Mark Turgeon had this to say at Mark's introductory news conference at Maryland.
"This is a basketball school, that's first and foremost," she said in an article in the College Station Eagle. "We've been in great areas. We have a great group of kids we left behind at A&M; and a phenomenal university. But he was really attracted to the idea of being at a basketball-minded school."
ESPN's Andy Katz reports that Turgeon on Friday interviewed K-State assistant Dalonte Hill for a spot on his UM staff. KSU coach Frank Martin told Katz he isn't sure Hill will take the job if offered. Hill is from the D.C. area.
Recruiting
Trevor Lacey, a 6-3 senior guard from Butler High in Huntsville, Ala., will choose either KU, Kentucky, Alabama or Auburn on Wednesday, the last day of the spring signing period.
As to DeAndre Daniels' plans ... nobody knows. Daniels, 6-8 senior from IMG Academies in Bradenton, Fla., has yet to say whether he'll sign with KU, Duke or Texas on Wednesday. Players do not have to sign letters-of-intent. They can report to school and sign financial aid agreements at that time.
"After speaking with a few people, I've settled on the phrase 'paralysis by analysis.' To be clear, I have no hard-hitting inside knowledge," said ESPN's Dave Telep. "Frankly, I can't even tell who is really in the mix. Could it be Texas? Duke? Kansas? Someone we've never heard of? All of the above are possibilities."
One college assistant coach told Telep he did not think Daniels would sign with a school Wednesday.
"It's as bizarre as a decision as I've ever seen. It could change on an hourly basis," the assistant told Telep.
Jamari Traylor, 6-8 from IMG, who is considering KU, Indiana, Texas Tech and Oklahoma State, also has not announced his plans for signing day.
More like this story on KUsports.com