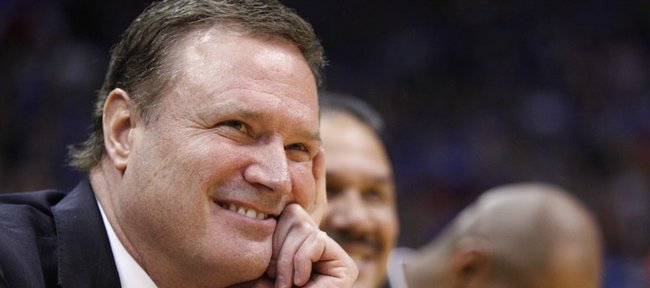 Bill Self doesn't like his chances in a head-to-head golf matchup against his Kansas University basketball coaching predecessor, Roy Williams.
"Trust me, he is a better golfer than me," Self, a 12-handicapper, said of North Carolina coach Williams, who has a 10 handicap.
"When I played with him before, he was (better)," added Self, who recalls playing two rounds with Williams when Self worked at Oral Roberts and Williams was at KU.
The two coaches will compete against each other in a four-person Celebrity Skins Game on Sunday to highlight the grand opening of the Firekeeper Golf Course in Mayetta.
Self will be paired with four-time PGA Tour winner Notah Begay III, who designed the course. Williams' partner will be Randy Towner, former Alvamar golf pro who is head golf pro and general manager of Firekeeper.
"It's a nine-hole Skins match with two pros, one really good player and one hack," Self said, referring to himself as the hack. "I'll definitely be the weak link in that group. It should be a lot of fun playing with those three. Of course, Roy will be there and will add so much to it. Everybody respects the job he did at KU."
First tee shot is 10 a.m., following a dedication ceremony to start at 9:30.
The two hoops coaches certainly won't be in mid-summer golf form.
However, Williams has been on a golf trip this week; Self hit the course last week, though he says he's busy again with work with Wednesday's conclusion of the spring signing period and Big 12 and NCAA meetings.
"We've still got recruiting to do and meetings and stuff," Self said. "I did play last week. So I can't say I haven't played."
The event is free and open to the public. Firekeeper is Begay's first signature course and sits on 240 acres owned by the Prairie Band Potawatomi Nation. It is across the street from the Prairie Band Casino & Resort. For more details about Firekeeper Golf Course, go to www.firekeepergolf.com.
Update on Robinson's sister: KU sophomore forward Thomas Robinson's 8-year-old sister, Jayla, continues to live with her father, James Paris, in Washington, D.C. Jayla has been with her dad since the death of her mother, Lisa, in late January. Lisa.'s stepbrother and his wife have since filed a complaint for custody of Jayla.
Jayla's dad's attorney has filed a motion to dismiss that complaint in Prince George's County in Maryland.
Parties are awaiting a ruling of the circuit court in that county, where Jayla has attended school this year despite living in D.C., where she has lived most of her life. The matter ultimately may be back in a D.C. court before it's over.
"What Mr. Paris can say is he has always been involved in his daughter's life. The documents and records we submitted as part of our motion show he has always been involved in his daughter's life," Paris' attorney, Ed Varrone, said Thursday.
"Jayla is in a good home. She is going to school. She is getting the kind of care and attention a girl in her situation is expected to get or you would hope to get, including mental health counseling," Varrone added. "All that was put in place before the custody case was being filed because it was sort of the obvious thing to do, before he (Paris) had a lawyer and any of that was going on. He has the support network in place that Jayla's mother, Lisa, had in place by document several years before she died. The child is being well taken care of."
Jayla's dad regrets the media scrutiny. "From his point of view it is a private matter. It is a little girl who does not need her business out on the street unnecessarily," Varrone said, noting "at the end of the day, that does not help this little girl. At some point she is not going to be a little girl and in this era of Google, nothing goes away, and given that, I'm not sure at this point we want to get in the newspaper."
KU coach Bill Self said: "I have no comment on what has transpired. I do think it's sad anyone would play out (publicly) what is transpiring in the lives of a 20-year-old brother and 8-year old sister in a way that certainly could affect their lives."
The attorney for Lisa's stepbrother could not be reached for comment.
This, that: KU director of basketball operations Barry Hinson on Thursday celebrated his 50th birthday. ... KU senior-to-be Tyshawn Taylor, who had surgery to repair torn ligaments in his index finger of his shooting hand on April 8, is back on the court shooting and dribbling. He has not been cleared for full contact drills yet. ... Josh Selby, in an interview with Yahoo!Sports, says after weeks of three-a-day workouts in Las Vegas he's seen his weight drop from 208 pounds to 195. Of his only year at KU, he said: "One thing I learned is that things don't always go your way," Selby said. "God made things happen for a reason. It wasn't meant for me to have a great year, so maybe it was for me to rejuvenate myself. That's the past, now I'm just worried about the present and the future."