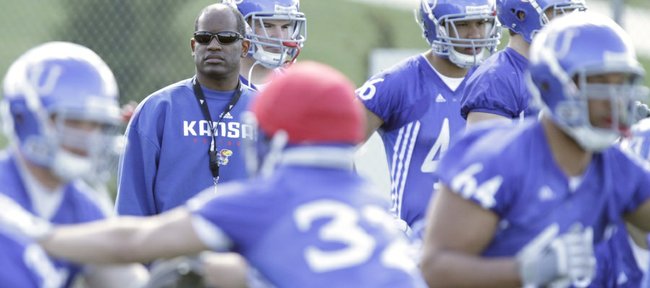 The Kansas University football program released its first official depth chart of the spring this week, and more than a couple of things popped off the page about the new pecking order.
First, red-shirt freshman Pat Lewandowski, a 6-foot-6, 248-pound defensive lineman from Blue Valley West High in Overland Park, has been moved back to defensive end.
Lewandowski came to KU as a defensive end prior to the 2010 season but spent the majority of spring drills trying to bulk up and playing inside at defensive tackle. Lewandowksi looked good throughout the spring game, finishing with three tackles and generating consistent pressure up the middle. However, KU coach Turner Gill said Wednesday that further evaluation of Lewandowski's skillset led the Jayhawks' coaching staff to determine that Lewandowski would best serve the team at his original position.
"He did participate at defensive tackle all spring but it has been decided that he will be moved back to defensive end, where he will play this fall," Gill said.
Lewandowski's size likely played a role in the decision. After the spring game, the Blue Valley West alum said his goal weight for the season, in order to play defensive tackle, was in the 275-280 range. That would've meant adding 20-30 pounds in the next three months. As it stands now, Lewandowski's size puts him in the ideal range for a defensive end, a position in which the Jayhawks are lacking proven performers.
Though he's been in town for just a year and has yet to play a down, Lewandowski already has proven himself to be the kind of player who just wants to play, regardless of position.
"Take all the reps you can," he said after the spring game. "No one wants to be sitting on that sideline."
Another note of interest from the post-spring depth chart came at cornerback, where sophomore Tyler Patmon, one of the team's top defenders down the stretch during the 2010 season, was listed as a second-teamer behind senior Isiah Barfield.
Patmon entered the spring as an almost-certain first-stringer, but when the depth chart came out, he was listed with the second team. Asked to explain Patmon's placement, Gill said nothing more than, "He is where he is."
One area in which Barfield has the edge over Patmon is experience. The senior from Haven High has started 14 games during his three seasons and appeared in countless others. Patmon made nine starts a year ago.
Barfield missed the early portion of spring drills while recovering from offseason shoulder surgery, but was able to participate as the spring went along, though not always at full-speed.
Offense officially features fullback
In recent years, KU's depth chart has included three slots for wide receivers. That's no longer the case. The latest depth chart includes just two spots for wideouts — Christian Matthews and Daymond Patterson are listed as first-stringers — and two spots for running backs, a tailback and a fullback. This is in line with what Gill wants his offense to become, a power-running product that controls the clock and features the team's most talented position. The presence of first-team fullback Nick Sizemore, a transfer from Buffalo, certainly made going this route easier. Sizemore had a great spring and should be a difference maker for the KU running game.
Julius Green not listed
He opened spring practice with a bang, being cited early on a couple of occasions by Gill for strong play at defensive end. But since then, freshman Julius Green has fallen down the depth chart. Two things to remember here. First, Green's still a freshman and even though that 6-foot-7, 270-pound frame leaves people wanting (and perhaps expecting) more, it's going to take time for him to get used to the college game. Second, Green, who came to KU as a grayshirt, did not play organized football last year. He was enrolled at a community college, where he took one class and worked out on his own. He added weight and seemed to remain in good shape, but being in Big 12, playing shape is a different animal and that, too, is going to take some time.
The ever-popular "OR" pops up again
The post-spring depth chart features three instances in which the word, "OR" is used, something first seen last season with Gill's depth charts. The first and most notable is at quarterback, where sophomore Jordan Webb is listed first but only separated from senior Quinn Mecham by the infamous O-word. This, according to Gill, does not mean that Webb is the starter. It merely means that the battle is still on and that both guys — along with incoming freshmen Brock Berglund and Michael Cummings — are still in the running for the job. The other areas where "OR" is used are at tight end, where Ted McNulty OR AJ Steward are listed as the backups to senior Tim Biere and wide receiver, where Chris Omigie OR D.J. Beshears fall in line behind Matthews.
More like this story on KUsports.com