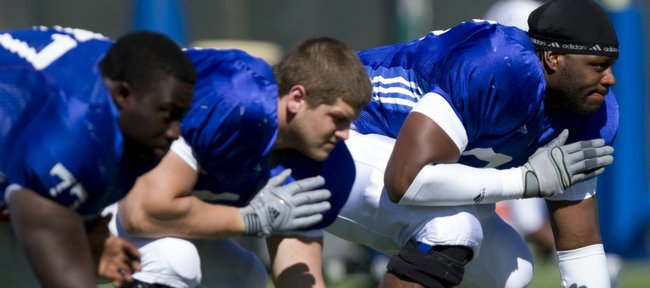 Major injuries have a way of haunting players well after they're healed.
Kansas University offensive lineman Jeff Spikes learned that firsthand this spring.
In early April, the night before KU's first spring practice of the season, Spikes had a dream — more of a nightmare, really — about a relapse of the torn Achilles' tendon that kept him sidelined for the entire 2010 season.
"It's crazy," Spikes said. "I had a dream that somebody stepped on the back of my foot and I went down. And then the next day somebody actually did step on my foot, but I was good. After that, I didn't think about it anymore."
And after that, Spikes returned to the form that made him a starter as a true freshman and one of the most promising young offensive linemen in the Big 12.
When it occurred, the injury seemed like a setback. Now that it's behind him, Spikes is happy to admit that it was one of the best things that ever happened to him. Instead of continuing to plug away, getting by on size, strength and natural ability, Spikes looked inside of himself and added a new dimension to his game.
"I feel like that really, really upped my mindset towards the game," Spikes said. "Sitting out the whole season, I had a chance to sit back and watch things from a different perspective. And, now, all the things I learned from watching, I get to put into effect."
More days than not, those things have nothing to do with the offensive line or blocking schemes and everything to do with being a better teammate, a stronger leader, a more driven player. Focusing on that side of football has helped Spikes forget about the injury. It's also made him a more complete player, one who prefers extra reps to cutting corners.
"It's like this with anybody in every sport," Spikes said. "As you get older, you realize things you didn't realize when you were younger and then you start to see the light at the end of the tunnel. Sometimes you gotta realize that every rep does count. You can't be like, 'Oh, this drill's not for me.' If you can learn by watching another group go, watching them run the plays, that's a sign of maturity that a lot of young guys don't have."
With Spikes back on the field, the KU offensive line enjoyed a productive spring. The five players who likely will be starters took all of the first-team reps throughout the 15 spring practices and scrimmages. While they might not enter the season as one of the most feared lines in college football, Spikes said he could sense something special developing.
"It's like one of those teams that goes together because they've been playing together for so long," Spikes said. "A lot of us have been around for a while, so we know each other's character outside of football and each other's character during football so, right now, it's just coming together."
He continued: "It's unfortunate, what happened last year, you know. We're looking past that right now. We're not saying we aren't gonna remember what happened, but we're gonna take that and put some more effort in this year and just try to become a better football team."
Spikes talks a lot about last season, more than one might expect from a guy who suffered the worst injury of his career and watched helplessly as his football brothers limped to a 3-9 season without him. When asked how it felt to watch the team struggle, Spikes interrupted.
"We struggled, last year," he said. "We struggled. "It was still my team. We play three hours on the field, 12 games. But off the field, we practice three hours a day, four or five days a week and we've got weights and everything like that. I wasn't able to play, but the emotional tolls, the losses, the devastation that we went through, I was a part of that. They embraced that with me and I embraced that with them."
Today, his teammates are wrapping their minds around having big No. 74 back in the trenches, now holding down the starting spot at left tackle.
"Spikes is a great player," said junior Tanner Hawkinson, who played left tackle in 2009 and 2010. "He is a big, strong guy and he makes our line better, so if they want me to move to the right side to accommodate him, (I'm) fine with it because having Spikes back will make us a better line overall."
More like this story on KUsports.com