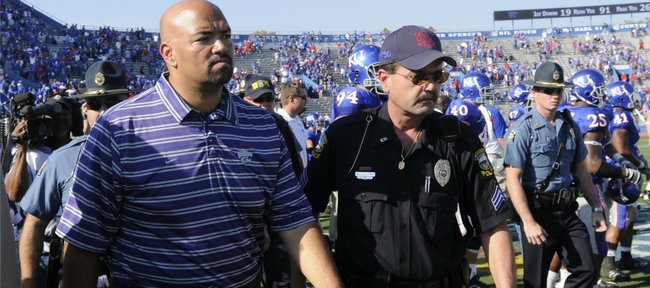 Manhattan — Kansas State has agreed to settle a contract dispute with former football coach Ron Prince for $1.65 million.
The school announced the settlement Friday, ending an embarrassing chapter in Kansas State sports history. Prince was generally unpopular with fans after going 17-20 from 2006-2008 as head coach. He was fired.
Afterward, the school said it accidentally discovered what it called a secret memorandum of understanding signed by Prince and athletic director Robert Krause. In that agreement, Prince was supposedly owed $3.2 million in addition to a severance payment of about $1.3 million.
President Jon Wefald said he hadn't known anything about the agreement, and Krause's ties with athletics were immediately ended.
Prince currently works for the Indianapolis Colts as an assistant offensive line coach.
The university filed suit in 2009 claiming that the agreement was invalid and unenforceable. The school said Friday it will make a lump-sum payment of $1.65 million, and neither party will make any admission of liability. The school said it incurred outside legal fees during the process of $395,000.
The school said the money will be paid from conference and NCAA revenue and not from individual donations or ticket sales.
Bill Snyder has since taken over for Prince. Snyder is 13-12 the past two seasons with an appearance in the Pinstripe Bowl this past season.