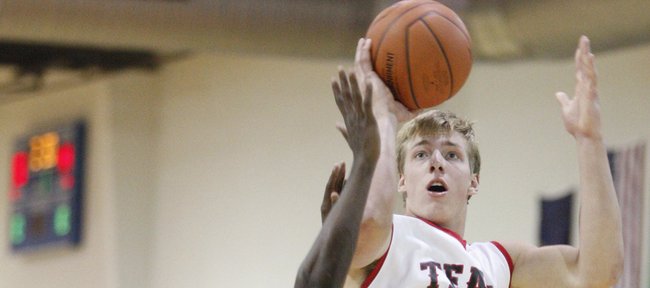 Prestonwood Christian Academy's football team will boast one of the tallest wide receivers in the state of Texas this fall.
Future Kansas University basketball power forward Zach Peters, a massive 6-foot-9, 240-pound junior who last played football his freshman year, has decided to play two sports his final year at the Plano, Texas, high school.
"I was thinking about my senior year and everything ... I love football. I regret not playing. I don't want to regret not playing football my senior year," said Peters. He averaged 15.3 points and 9.0 rebounds per game this past season for 26-11 Prestonwood.
Peters, who is Rivals.com's 97-rated player in the basketball recruiting Class of 2012, earned first-team TAPPS (Texas Assn. of Private and Parochial Schools) basketball all-state honors.
"It's just as easy getting hurt playing basketball as football," said Peters, who was given the OK from his future college coach to be a dual-sport athlete again. "Coach (Bill) Self played football. He said (to) play football."
Peters — he played in a couple spring events for Texas Titans' AAU basketball team — said he will skip the summertime AAU circuit and practice both basketball and football leading up to the start of the 2011-12 school year.
"I played AAU the last eight years. This summer I decided not to. I felt it would be better to work on little things so I could become a better player and get my body where I want it to be," Peters said, noting he was planning on making at least one trip to Lawrence.
"I should be up in June to come up randomly and play at night with the guys and work out," Peters said of unsupervised pick-up basketball action. "There are some things I need to work on and I feel I'll get more accomplished working out rather than playing (AAU)."
Peters said he remains committed to playing just one sport in college — hoops.
"I'm definitely going to KU to play basketball," said Peters, who along with future KU target Julius Randle (15.0 ppg, 9.8 rpg), helped Prestonwood to a runnerup finish in the state tourney this past season.
"Zach works extremely hard. He's one of the hardest workers we've got definitely," Prestonwood coach Brad Freeman said. "He is really big, strong. He's so big that right now the main thing is not getting too big.
"I don't know of many kids who have that problem," Freeman added, referring to high schoolers already having bodies suitable for the college game. "You don't want to be too heavy. It'll slow you down. Some kids just have it naturally."
Peters has needed a durable body to fend off opposing teams who have double- and triple-teamed him.
"He plays well (with his) back to the basket, but we pop him out some," said Freeman, who will not be returning as coach for Peters' senior season. "He can handle the ball out on the court as well. At 6-9 ... in high school you will play inside. Coach Self told him, 'Play where your team needs you.'''
Peters acknowledged that when three opposing players are on him, "it is tough getting position and stuff. I'm starting to learn how to do some different things. I had to step out a bit. I actually shot a lot of jump shots."
He'll likely have to deal with just as much attention from foes his senior year.
"They send two to three guys inside. It makes it tough," Freeman said. "He will not see that on the college level. You do that and those other Div. I athletes will tear you up."
Peters, who orally committed to KU on April 21, 2010, will sign his letter of intent with KU in November. KU coach Bill Self cannot comment on prospective players until the school receives the signed letter of intent. Peters, who first started being recruited by schools when he was in seventh grade, had North Carolina, Kentucky and Texas on his original list.
He said no schools have tried to recruit him since he orally committed to KU.
"They (college coaches) come to see Julius," he said of the 6-8, 235-pound Randle, the No. 3-ranked player in the Class of 2013, "but they know where I am going and have not tried to recruit me."
Randle, who already has been compared to Chris Webber, recently told tarheelillustrated.com that he has a list of KU, Texas, Oklahoma, Missouri, North Carolina, North Carolina State, Ohio State, Duke and Kentucky.
"That's all I can think of right now," Randle told the website. "I have a lot of respect for every school. All of those schools are big-time programs. They're all on the rise or at the top right now. It's just a great honor to be offered by those schools, and having other schools recruiting me, it doesn't really matter," he added.
Peters' new coach: Prestonwood's new basketball coach is Chris Mayberry, who coached the past nine years at the First Academy in Orlando, Fla., the Dallas Morning News reports. Mayberry led First Academy to the state title game last season and made the state Final Four three times.
GWU to turn to Lonergan?: George Washington University will name Vermont head coach Mike Lonergan as its new basketball coach, Comcast SportsNet's Chick Hernandez reported Thursday night. The Washington, D.C., based website indicated Lonergan will be introduced as GW's coach Monday. GW fired Karl Hobbs last month after 10 seasons as coach. KU assistant coach Joe Dooley reportedly interviewed for the post at his alma mater this week. A University of Vermont official told the Burlington Free Press that Lonergan hasn't resigned from UVM or signed a contract with George Washington, but the official suspects it could be done as soon as today. Another UVM source said Lonergan flew to Washington, D.C., on Thursday morning. ESPN's Andy Katz also reported that Lonergan is GW's choice.
More like this story on KUsports.com