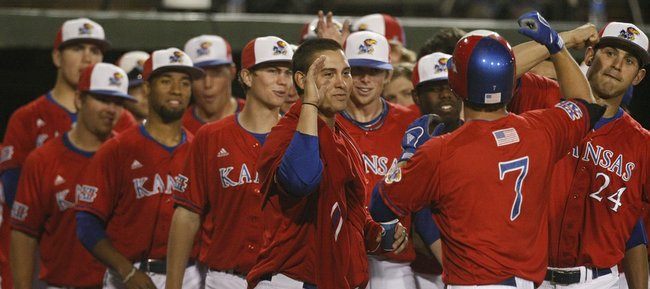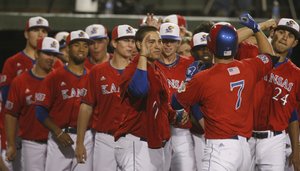 Wichita — Kansas University's baseball team scored 11 runs on a season-high 18 hits, including three each by freshman Ka'iana Eldredge and senior Casey Lytle as the Jayhawks unloaded on Wichita State, 11-2, to complete a sweep of the two-game midweek series Wednesday night at Eck Stadium.
The Jayhawks improved to 22-24 overall, while the Shockers fell to 28-21. The nine-run margin of victory was the biggest by KU in a game against Wichita State since a 10-1 Kansas win on April 7, 1988.
"I'm proud of the way we've rebounded (from last weekend)," KU coach Ritch Price said, referring to a three-game sweep at Texas Tech. "I think that speaks volumes about how much this team has matured during the course of the season. We've grinded every day of the season. We were offensively challenged early in the year, but to come down here and have everybody contribute is pretty special."
Kansas scored early and often in a game that was never really in doubt. In the first inning, KU plated two on a pair of singles — off WSU starter and Lawrence High product Albert Minnis — and two Wichita State errors. Junior Zac Elgie collected the only RBI on a groundout.
KU sent 10 men to the plate in the second inning, scoring four runs on five hits to chase Minnis, a WSU freshman who fell to 1-1.
Kansas senior Casey Lytle, sophomore Alex DeLeon and junior Chris Manship opened the frame with three straight base hits. Lytle collected his first of three hits, while DeLeon doubled to the gap in right center to give the Jayhawks a 3-0 lead.
Following a fielder's choice and a walk, Eldredge singled home another run to end Minnis' night after just 11⁄3 innings. The inning continued as Jimmy Waters was hit by pitch to load the bases, and Elgie followed with his second RBI on a single to left field to cap the four-run rally.
"I'm really proud of the progress that Ka'iana has made. He's playing like a freshman All-American right now," Price said. "We're talking about a guy who was hitting like .145 before we started Big 12 play, and I think he's like .290-something in the conference. He's improved each and every week. Casey Lytle has been one of our two best players all year. It's a pleasure to see how much he's improved in the four years he's been here."
Sophomore Thomas Taylor earned his fifth win of the year, pitching three shutout innings in a pre-determined split. Taylor allowed three hits and recorded four strikeouts. Senior Wally Marciel followed Taylor with three scoreless innings before Wichita State finally got on the board with an RBI ground out in the seventh.
By that point, KU had a 10-run lead. Waters added his fourth home run of the season to put the final exclamation point on the night. In all, 11 batters recorded base hits for the Jayhawks, including all nine starting position players. The 18 base hits were the most by KU since it collected 19 in a game against Missouri on May 7 of last year.
The Jayhawks will travel to No. 10 Oklahoma for a three-game series beginning Friday.
More like this story on KUsports.com