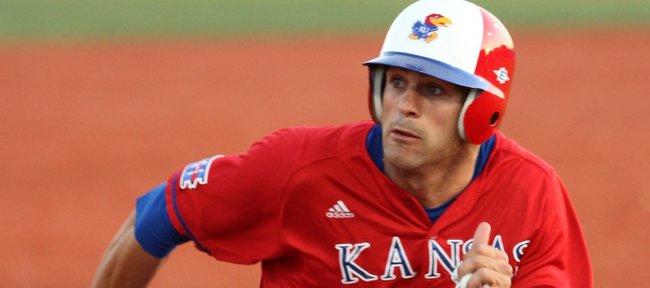 The Kansas University baseball team ripped a pair of run-scoring doubles and delivered seven RBIs in all, but two defensive gems may have been the difference in KU's 7-4 victory against Wichita State Tuesday at Hoglund Ballpark.
"We couldn't play better defensively than we did tonight," KU coach Ritch Price said.
That was true throughout the game, as the Jayhawks continually got into jams and then found a way to get out of them. Still locked in a scoreless tie in the fourth, KU's starting pitcher Alex Cox coerced the Shockers to ground into a double play that ended a bases-loaded threat. That was just one example of team defense making a difference. There were a couple of big-time individual moments, as well.
The first came from shortstop Brandon Macias, with KU leading, 6-0, in the fifth. Macias' diving stop of a sharply hit ball in the hole turned a potentially big inning into one in which the Shockers plated just two after diving to his right and throwing to third from the ground to get the lead runner. The next came in the seventh, with KU leading 7-2. Reliever Scott Heitshusen inherited a bases-loaded, one-out scenario and surrendered a run on the first pitch. One batter later, Tyler Coughenour lifted a high fly-ball to deep right, which looked as if it would be deep enough to clear the bases and tie the game. But KU outfielder Casey Lytle quickly broke into a dead sprint and made a diving, behind-his-head grab for the second out of the inning. The highlight grab limited WSU to just two runs in the inning and KU took a 7-4 lead into the final two innings.
"I told our guys everybody in the dugout needed to touch Lytle when he came in," Price said. "The bases were loaded, he makes the diving catch, takes three runs off the board and it could be 7-7. And obviously Macias was special with the glove, too."
Marasco (2-for-4, 2 RBIs) also sang Lytle's praises for the game-saving grab.
"That was a great catch," he said. "You know, our outfield's so good, you almost aren't surprised by it when that happens."
Macias, who finished 2-for-5 with an RBI and a run scored, said he has focused more on fielding in recent weeks.
"Defense always is going to win you games," Macias said. "I've been struggling with the bat a little bit this year and I'm trying to do something just to help out, anything I can."
After Marasco's double in the fourth put Kansas ahead, 2-0, the Jayhawks jumped on the Shockers again with four more in the fifth. Jimmy Waters, James Stanfield and Lytle picked up RBIs in the inning, and first baseman Zac Elgie, known more for driving the ball, dropped a picture perfect bunt down the third-base line to keep the rally going.
"It turned out really nice," said Price of Elgie's bunt. "In fact, I think now he thinks he's a skills guy."
The victory improved the Jayhawks to 21-24 overall and snapped a four-game losing streak. Even better was the fact that Tuesday's victory helped remove the sting from a heartbreaking sweep at the hands of Texas Tech last weekend.
"The thing that was important today was that we found a way to win and we flushed what happened (last weekend)," Price said. "We couldn't go in there tomorrow (KU and WSU play again at 6:30 tonight in Wichita) on a five-game losing streak and then head into the weekend to play a team (Oklahoma) who's in the top 10 in the country. We had to stop the bleeding."
More like this story on KUsports.com