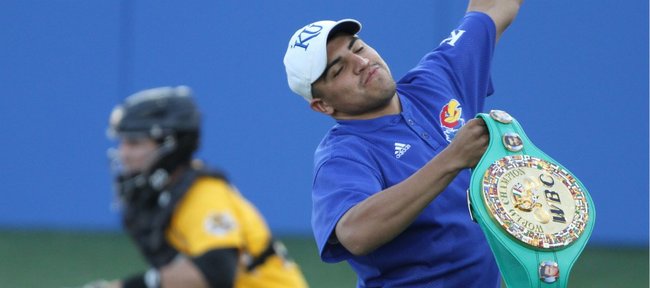 Next to the choice Meryl Streep's Sophie had to make, the saddest moment in cinematic history just might be Marlon Brando's Terry Malloy measuring himself as a total failure as a boxer and a human being with the words, "You don't understand. I coulda had class. I coulda been a contender. I coulda been some somebody, instead of a bum, which is what I am, let's face it."
Victor Ortiz, WBC welterweight champion of the world, is the anti-Terry Malloy. Ortiz has class. He was a contender. Now he's a champ. He is somebody. He's a winner who had every excuse in the world to be a loser.
Ortiz, a Mexican-American native of Garden City and a big-time Jayhawk fan since the age of 5, was in attendance Tuesday night at Hoglund Ballpark, where between innings of Kansas University's 7-4 victory against Wichita State, he showed his championship belt to the crowd.
If only everyone knew the life story of Ortiz, 24, the ovation would have shaken the place.
"I was about 5 when my sister gave me a watch and the watch had a stamped Jayhawk on it and the ticking hand had a basketball that ticked all the way around," Ortiz said. "Since I was a kid, I loved the emblem. I used to call it a bird. From that point on, I got hooked on the Jayhawk. I saw it everywhere and I always thought it was awesome."
Quickly, he learned the Jayhawk was affiliated with Kansas University and he told himself he one day would graduate from the state university. It never happened. A one-two punch that would have wounded most children beyond repair made his life take a different course.
"My mom ends up leaving when I was 7 years old," Ortiz said. "I came home from school and she was just gone. Without a word. No goodbye. Nothing. No fight between the parents or anything. Then about four years later, my dad did the same thing. I ended up with nothing. My life took a bad turn."
He and his five siblings went into foster care. He has admitted to selling marijuana for a stretch and then realized how foolish that was once he started to make something of himself in national competitions as a young boxer.
Ortiz said he saw his father for the first time since childhood a year-and-a-half ago.
"He's living a very sad life now," said Ortiz, who lives and trains in Ventura, Calif. "I forgive him for everything and I just try to help him now. My mom, I met her six months ago. She was just sad, trying to talk to me and explain herself. I just told her not to worry, I grew up, became a man, put her son through high school and paid his college tuition, clothed him, fed him. I basically told her I did what was supposed to be your job. 'Other than that, mom, I'm not mad at you. I don't hate you. I thought I did for a very long time, but I don't. People make mistakes and life goes on.' She's doing well, especially now that I reached out to her."
Former world-champion boxer Oscar De La Hoya now promotes a stable of boxers under the banner Golden Boy Promotions. After being impressed with how Ortiz handled himself in the ring and especially in the press conference afterward, where he showed grace and class similar to that of De La Hoya, Ortiz was recruited to Golden Boy Promotions.
I shared with Ortiz that I attended the De La Hoya's Jose Vargas fight in Sept. 2002, and remembered De La Hoya turning into a man possessed when he smelled Vargas' blood.
"Trust me, I know that feeling as well," said Vicious Victor Ortiz. "You can smell it, too. People aren't just saying that. You can actually smell blood from about five feet away. I don't know what comes over a person, but if it's senses that a shark has when it smells blood, that's what we have as well. When I smell it in the ring, I want to see more and I want to smell more. It's weird. It's definitely different. It's like something triggers in you."
Ortiz, who when he does his 12-mile runs at 4:30 in the morning wears a stocking cap with a Jayhawk on it, has a Jayhawk on his mouthpiece and his trunks, and a "KU" on his secondary mouthpiece.
If he one day should fight in Allen Fieldhouse, a dream venue for him, once he smells the blood of his opponent, those lucky enough to have a seat in the crowd will witness a gentleman's gentleman transform into an vicious animal. Here's hoping it happens.
• A previous version of this story was updated.