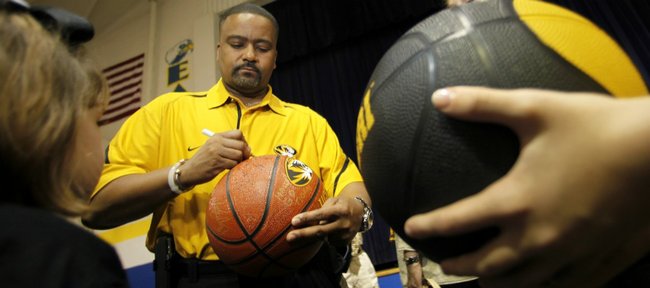 Mendon, Mo. — Taking over a successful college basketball program as the new guy is never easy. Competing with live coverage of the NFL Draft when your new school has two top 10 picks? More like downright unfair.
That's the scenario new Missouri basketball coach Frank Haith found himself in during a recent visit with Tiger boosters at the Mizzou Caravan's annual pork-chop dinner and Chariton County whistlestop of Mendon, population 208.
His brief remarks were cut short by raucous cheers from the TV-watching crowd when the Jacksonville Jaguars selected former Missouri quarterback Blaine Gabbert. That was moments after the San Francisco 49ers selected Aldon Smith, Gabbert's former teammate.
Haith didn't seem to mind. The former Miami coach — whose hiring was greeted with disappointment by Missouri diehards hoping for a bigger name — realizes that he has plenty to prove after seven seasons in Coral Gables with just one NCAA Tournament berth and a losing Atlantic Coast Conference record.
"People want to know who you are, how you are going to do things and what's in your character," Haith said in an Associated Press interview. "That's the passion I felt ... I got the message — they want to win big."
Haith has spent most of the past month on the road, from New York and Massachusetts to Washington, D.C. and North Carolina, hustling to fill three available scholarships for next season and gain verbal commitments for 2012, when six roster spots will be open.
He's also focused on recruiting a fan base, with recent trips to alumni and fan clubs to places as disparate as Chicago and Mendon.
His life story is one that resonates among Missouri fans who still revere Norm Stewart, the Shelbyville native who coached Missouri for 32 years after starring for the school's baseball and basketball teams.
Haith, 45, was born in New York City, one of 10 children, but raised by his grandmother in Burlington, N.C., beginning at age 5. His mother died when Haith was 12, and his father remained distant. Three younger siblings later joined Haith and older sister Patricia in North Carolina.
Encouraged by a Pop Warner coach who was also the school's athletic director, Haith remained in Burlington to attend Elon College, at the time an NAIA school. An injury during the summer of his freshman year derailed his plans to play football.
He instead found an identity in the coaching fraternity, filled with the father figures he lacked. Haith became a student assistant at Elon, living in a gym janitor's closet when his scholarship couldn't cover more traditional student housing.
"As I look back on it, I learned and grew from that experience," he said. "It's a big part of who I am."
He soon followed the peripatetic life of a college assistant coach, relocating every few years while learning from more established basketball minds, from Dave Odom at Wake Forest to Rick Barnes at Texas. Two other former bosses are now top NBA executives: Tony Barone Sr. (Texas A&M;), player personnel director for the Memphis Grizzlies; and Kevin Eastman (North Carolina-Wilmington), a Boston Celtics assistant.
Haith's humility won over the Mendon crowd of Missouri farmers, teachers and small-town bankers.
"I'm thrilled," said Paul Steele, a former University of Missouri curator and Chillicothe farmer. "I really believe he has the integrity that we in Missouri expect in our coaches."
Haith replaced Mike Anderson, who left Missouri for Arkansas after five seasons, three consecutive NCAA Tournament appearances and 77 wins over the past three years.
Haith went 129-101 in seven seasons at Miami, his first head coaching job, including 21-15 in his final stint with the ACC school. The Hurricanes went 43-69 in the conference under Haith, whose best ACC mark was 8-8.
Missouri had hoped to lure Purdue coach Matt Painter, who instead signed a contract extension and received a sizable raise from the Big Ten school.
Gary Link, who played for Stewart and helped Missouri athletic director Mike Alden with the coaching search, said that Roy Williams at North Carolina, Duke's Mike Krzyzewski and Gary Williams of Maryland each highly recommended Haith.
Link said Haith will quickly win over skeptical and uncertain Tiger fans once they get to know him better. Trips to far-flung places like Mendon certainly don't hurt.
"We're the University of Missouri," he said, emphasizing the second word in the school's name. "We play better to all the outstate areas than we do even in Kansas City or St. Louis. Mendon. Brookfield. Marceline. The university is of Missouri. Out here, we're the only show in town."
One potential recruit was expected on campus today. Isaiah Philmore, a 6-foot-7 forward who averaged 15.3 points and seven rebounds as a sophomore for Towson, will make an official visit, his Delaware-based AAU coach said.
Missouri could also be in the running for Rodney Purvis, a 6-foot-4 guard from Raleigh, N.C. The high school junior verbally committed to Louisville but changed his mind after Haith hired assistant Tim Fuller, Purvis' primary recruiter.
Haith said he doesn't expect to lose any current Missouri players, including junior forwards Kim English and Laurence Bowers, who declared for the NBA draft but can return to school since they didn't sign with agents; and freshman point guard Phil Pressey, whose father was Anderson's college teammate and lifelong friend.
More like this story on KUsports.com