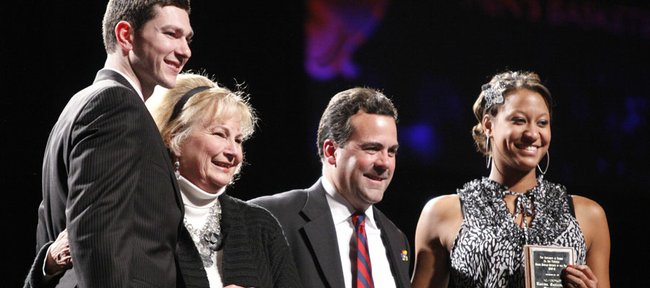 Nearly four years ago, Kansas University seniors Tyrel Reed and Karina Garlington shared the experience of their first class at KU together.
Monday night, at the 2011 Jayhawk Senior & Scholar Athlete Banquet, the two shared the stage to receive the Robert Frederick Senior Scholar Athletes of the Year awards, the most prestigious honor of the night.
"Oh my gosh," said Garlington, a standout for the KU volleyball team. "It was an unbelievable night. I'm just so humbled, so honored to be awarded all the amazing things and I just couldn't have asked for anything else."
Sharing such a night with her old pal only made things better.
"We became really good friends and I've just so enjoyed his success," Garlington said of Reed, the KU men's basketball player who racked up a school-record 132 victories during his four-year career. "It's great being a student-athlete around so many other amazing student-athletes. It means so much. Honestly, I think that's the biggest honor that an athlete at KU could receive. I was just super-touched and very honored."
For Reed, who, along with Garlington, also was recognized a few other times throughout the evening, the experience of being cheered at Allen Fieldhouse was nothing new. Doing it while standing 20 feet off the ground in a suit was, well, "Different," Reed said. "I'm not much of a suit wearer, but it was a good time. It was definitely cool to be recognized for all those great honors. I don't know how deserving I am. I think I'm just a normal kid, but it was really good."
Reed, an academic All-American who graduated in three and a half years last December while majoring in exercise science/pre-physical therapy, said being back in the Fieldhouse one final time made Monday's event even more sentimental.
"This is probably the last time I'm going to be in here at a big function while a student-athlete," he said. "It's nice to have a culmination of my four years, and it's great to see everyone here and see all these student-athletes getting recognized."
As for the suit, a black number with a thin pinstripe, Reed said he picked that up during a recent trip to Oklahoma City, where he visited former teammate Cole Aldrich, now a member of the NBA's Oklahoma City Thunder. Reed said Aldrich helped him pick out the duds specifically for the event. Despite preferring gym shorts and high tops to the stuffy suit, Reed tipped his cap to Aldrich for the help.
"He's got OK style," he said. "He's probably got a stylist, but he's all right."
Reed and Garlington were not the only honorees to bring home some hardware from Monday's banquet. Other winners included:
l Reed and Garlington were joined by TJ Walz (baseball), Brady Morningstar (men's basketball), Jake Laptad (football), Nicole Schneider (rowing), Brittany Hile (softball), Iuliia Kuzhil (swimming and diving), Jordan Scott (men's track and field) and Kendra Bradley (women's track and field) in being named senior athletes of the year. Scott, the reigning NCAA pole vault champion known for his wild and crazy hairdos, sported a black-striped mohawk look with bright red adorning each side. Asked why he went with black instead of blue, Scott said he wanted to match his suit.
l Alex Smith was awarded the Senior Walk-On of the Year award for his efforts on the football field. Smith, a senior from Basehor, rarely played during his four seasons with the Jayhawks but made quite an impression with his coaches and teammates. "He always had a great smile on his face, came to work every day, was very passionate and I saw our players respond to him," KU football coach Turner Gill said.
l Iconic football figure Don Fambrough was honored with the K Club Service Award. Fambrough, a player in the 1940s and two-time head coach in the 1970s and early '80s, also was toasted during emcee David Lawrence's introduction.
l Del Shankel, a Professor Emeritus of Biology, was honored by athletic director Sheahon Zenger with the Kansas Athletics Lifetime Service Award. Moments earlier, the award that bears Shankel's name, which honors teaching excellence, was presented to Samira Sayeh, a professor of French and Italian.
l The Jayhawk CHAMPS award, given annually to the team that tallies the most points in areas such as personal development opportunities, camaraderie between programs, community service and team GPA, was given to Ray Bechard's volleyball girls.
l The Prentice Gautt Big 12 Postgraduate Scholarship winners were Nicole Schneider, a rower, majoring in civil engineering who owns a 3.94 GPA, and Jareb Stallbaumer, a 4.0-GPA track athlete, majoring in pharmacy. Both received $7,500 scholarships for postgraduate studies.
l Stallbaumer and Schneider also were two of the 11 honorees for The Dr. Gerald Lage Award, known throughout the Big 12 as the conference's highest academic honor. Others who received the Lage Award were: men's golfer Jeff Bell; football player Brian Blackwell; rower Melanie Luthi; volleyball player Paige Mazour; track athlete Jaci Perryman; rower Lauren Pollmiller; swimmers Alyssa and Brittany Potter; and rower Stacy Rachow.
The night also featured presentations from former football player Dan Coke, who led the invocation, graduating football player Bradley Dedeaux, who honored tutors Bill Nolan, Nicolas Shump, Nicole Pope, Krista Phair, Ali Brox, Jaime Keating, Chris Fertig, Kyra Kelley and Ev Karney, and Zenger, presiding over his first scholar and senior athlete banquet as the KU athletic director. Zenger's message was short and sweet as he thanked organizers, faculty members, families, coaches and student-athletes.
"You are the reason for us being here," Zenger said to the student-athletes. "Thank you for choosing the University of Kansas. And, seniors, thank you for all you have given to the Jayhawk nation. Keep us in your memories and we'll keep you in ours."
More like this story on KUsports.com