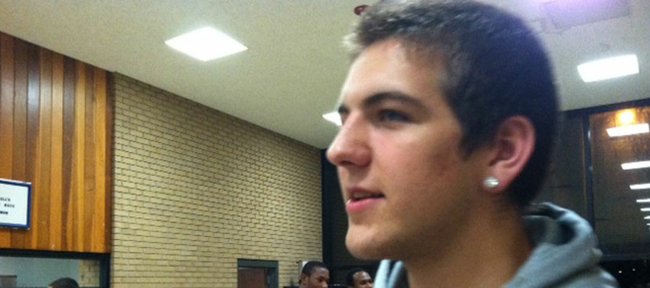 Brewster Academy senior point guard Naadir Tharpe hasn't tried to actively recruit his prep school teammate to Kansas University just yet.
"He just says he's going to Kansas to win a national 'ship. That's all he says to me," said Mitch McGary, a 6-foot-10, 250-pound junior from the Wolfeboro, N.H., school, who made an unofficial visit to KU last weekend while in town for the Jayhawk Invitational.
Tharpe, a 6-foot, 170-pounder originally from Worchester, Mass., this summer will join fellow Brewster graduate Thomas Robinson at KU.
"I know Kansas is a great school. We've got a few alumni from Brewster going there," said SYF Players power forward/center McGary who made the all-tournament team at last weekend's Invitational.
"They've got one of the classiest coaches in Bill Self. I like the program. It's always at the top of the nation.
"I'm not sure right now," he added, asked where KU stands in his recruitment. "I'm wide open in recruiting."
The Chesterton, Ind., native, is considering KU, Indiana, UConn, Pitt, West Virginia, Illinois, Duke, Arizona, Florida, Texas, Michigan, Purdue, Marquette and many others.
The mobile big man, with a soft lefthanded touch that extends past the three point line, explained his decision to attend Brewster both this year and next.
"Indiana basketball is the best, but I had to go for academics. I probably wouldn't have qualified (for college) if I stayed at my old high school," McGary said. "This is more structured. I have ADD, attention deficit disorder. I can't focus in bigger classes."
McGary, who made the academic honor roll at Brewster, continued his praise of the school where he'll take postgraduate classes next year after reclassifying to the Class of 2012.
"The transition has been so good for me. I've got my grades handled so a lot of schools are looking at me now. (Also) being in the weight room and gym every day .. it's helped me a lot being at Brewster," McGary said.
Here's ESPN.com's scouting report on McGary, Rivals.com's No. 92-rated player in the Class of 2012: "He is a physically imposing presence in the paint with good size, tremendous upper body strength, and limitless energy and physicality. He is proactive seeking out contact inside, a consistent finisher, and high volume two way rebounder. He is incredibly active with a terrific motor and great toughness. The lefty is skilled enough to stretch the defense to 18 feet, has the dexterity to dunk with both hands in congestion, and sets big screens both on and off the ball. He runs well in straight lines and has pretty soft hands around the basket."
Lacey in Kentucky
Trevor Lacey, a 6-3 senior guard from Butler High in Huntsville Ala., is on a Monday-Wednesday recruiting visit to Kentucky, the Louisville Courier-Journal reports. Lacey, who has visited Alabama and Auburn, is expected to visit KU and North Carolina State before the May 18 conclusion of the spring signing period.
Lacey on Monday night was to observe the first-ever "Kentucky Combine."
Kentucky coach John Calipari was to welcome NBA personnel from 20 teams to work out Wildcat players Brandon Knight, Terrence Jones and DeAndre Liggins, who have until May 8 to decide whether to stay in the NBA Draft or return to school.
Players are not allowed to travel and miss class to work out for teams, so Calipari is bringing the scouts to Lexington.
"I don't know of any other way we can get these young people the information they need," Calipari told the Lexington Herald-Leader. "They don't have the time to work out for three or four teams, and we just need to know what's out there and what's not for them to make the decisions."
Dooley a finalist?
GWhoops.com reports from "numerous sources" that either KU assistant Joe Dooley or Vermont head coach Mike Lonergan will emerge as George Washington's next coach. The website said the announcement could be next week.
More like this story on KUsports.com