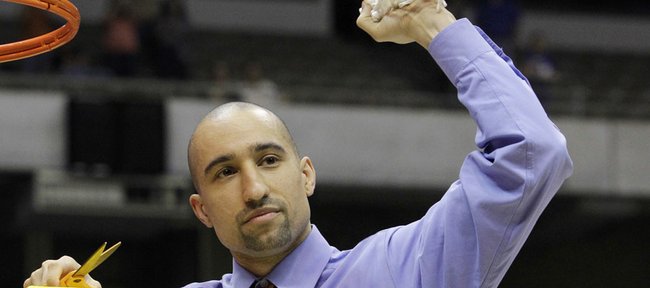 Chicago — Before the college basketball world started screaming about Virginia Commonwealth, back when ESPN pundits still considered VCU a four-letter word, Shaka Smart spoke softly to the man who helped give him a strong voice.
Walter King, the grandfather Smart called "the second-biggest influence in my life," passed away Tuesday in Highland Park from kidney failure at the age of 90. Thanks to a hospital visit from Smart earlier this month, King died knowing his increasingly famous grandson believed in himself as much as he constantly encouraged the boy during many formative summers in Chicago.
"Before the tournament Shaka was able to come and talk to his grandpa one last time," Monica King, Smart's mother, told the Tribune from her father's north suburban home. "He told him everything that was going on with the team and said he would get it done for him."
Five VCU victories later, with an NCAA Tournament semifinal game Saturday in Houston against Butler, even those who loudly objected to the Rams' presence in the 68-team field agree Smart has gotten it done.
And America thought VCU was getting motivation from Jay Bilas and Dick Vitale.
Smart now finds himself at a professional peak while enduring a personal valley.
"He taught me humility, appreciation, how to interact with people," Smart, 33, said of his late grandfather Tuesday at a news conference. "I was raised by my mom, and a lot of times when kids are raised only by a woman you need a male influence who can teach you certain things only a man can teach you."
Walter King settled in the Chicago area with his wife, Phyllis, and their two children after serving in World War II. King made a nice career as a printing salesman but in retirement took great interest in his grandson growing up in Wisconsin with a unique name.
Smart's father, a native of Trinidad, named his son for Shaka Zulu, a chieftain of the Zulu Empire. But Smart was raised never knowing the dad who left when he was 2 and hasn't been around since he was 17.
One day when Smart decided to give up soccer for basketball despite being shorter than most of his peers, it was his grandfather who buoyed his confidence and "told him to go for it 1,000 percent," Smart's mom recalled.
"Shaka was a big part of my father's life," she said.
They bonded at Wrigley Field, where Smart estimated on WMVP-AM he has seen "between 50 and 60" Cubs games, none more memorable than the day he caught a Ryne Sandberg foul ball. After summer ended, Smart's grandfather regularly sent him Chicago newspaper reports of Bulls and Bears games. When Smart got into coaching after a career at Division III Kenyon College, his grandfather started mailing him stories about Chicago-area prospects he should recruit.
"Instead of sitting around playing bridge five times a week, he was still trying to help out Shaka," Monica King said. "We would call it Grandpa's clipping service."
Grandpa would be beaming at the news his grandson made this month.
The VCU Final Four run has generated 11 million hits to the university's website since Sunday, raised nearly $250,000 in donations and forced President Michael Rao to acknowledge he already has begun negotiations to keep America's hottest coach.
The Rams' success also has given a growing national audience a new appreciation for Smart decisions.
We found out how Smart, who is biracial, stood up for friends and himself against racism as a teenager in Oregon, Wis. We learned that he graduated magna cum laude and researched race-consciousness on the South Side of Chicago. We discovered he burned a calendar March 1 to stress to players that February was over.
"But what is most impressive about Shaka is how he reads his guys and knows what they need," said DePaul coach Oliver Purnell, whom Smart considers a mentor after working for him at Dayton and Clemson. "He's cool as a cucumber, but if he needs to be emotional or make it us-against-the-world, he'll do it. Now it'll be, 'Nobody believes we can be national champions.'"
Whatever Smart tells his VCU team Saturday, his mother feels confident what the message will include. According to Walter King's wishes, his body will be donated to science. There will be a memorial service in April. But it would be foolish to think a grieving grandson won't pay his respects this week in the most meaningful way possible.
"I actually think this could motivate Shaka and suspect he will share that with his team," Monica King said. "I think he'll tell them that on top of everything, you want to beat Butler, but let's win this one for my grandpa too."
The most inspired team left just found a little more inspiration.
More like this story on KUsports.com