Podcast episode
Kansas coach Bill Self talks to reporters on March 29, 2011, two days after KU's loss to VCU in the Elite Eight.
Videos
Bill Self press conference: March 29, 2011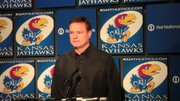 Kansas head coach Bill Self addressed the media in his first press conference since the Jayhawks lost to VCU in the 2011 NCAA Tournament.
Basketball coach/baseball fan Bill Self says it's time to step up to the plate and swing for the fences.
"We need to hit a home run ... one, but the bases need to be full," Self, Kansas University's eighth-year hoops coach, said, using a baseball analogy for the spring recruiting period.
"We need to sign two, three, four kids depending on if we do have departures. We obviously need to sign a couple of guards or wings," he added.
"From a bigs standpoint, a lot depends on what our twins (Marcus, Markieff Morris) want to do (regarding NBA), and I haven't even talked to them about it yet. We just need to be prepared."
Self won't be holding individual meetings with players until next week, after he returns from the Final Four in Houston.
"I think we'll know sooner rather than later," Self said, realizing players have until April 24 to declare for the NBA Draft. "If anybody is going to go pro or test (waters), I'd rather know now.
"I would much rather, in a perfect world, have the players we have return next year. We also have to be prepared to go out and sign some guys, and hopefully we are in position we can do that here in a couple of weeks if we need to."
The Jayhawks, who have signed Naadir Tharpe, a 6-foot point guard from Brewster Academy in Wolfeboro, N.H., are expected to land a commitment this weekend from Ben McLemore, a 6-5 shooting guard from St. Louis. He will announce for KU or Missouri at Sunday's NeXt All-America game in suburban Chicago.
Some others on the wish list include: DeAndre Daniels, 6-8 from IMG Academy in Bradenton, Fla.; Braeden Anderson, 6-8 from Wilbraham and Monson Academy in Massachusetts; Stan Simpson, 6-10 from Bogan Juco in Chicago; Otto Porter, 6-9, from Scott County Central High in Sikeston, Mo.; and Jamari Traylor, 6-7 from IMG Academy.
Self, who has four scholarships to give, wouldn't go into specifics about any Jayhawks who might have decisions to make regarding possibly turning pro.
He did say, "it would not surprise me if a couple of guys or even more put their name in the hat. It wouldn't surprise me if they didn't."
He said because of the threat of an NBA lockout, "There's a chance these kids could actually declare and not get paid. And an agent could say, 'Well, you're still closer to your second contract.' Somebody else could say, 'How do you make your second contract when you don't get in the games?'
"If there is a lockout and the season doesn't start until February, it's hard for these young kids to go in when there's no training camp to show they need to be playing games when the playoffs are only three months away. It could be a lost season for some of those guys because there is not going to be an opportunity to grow and learn and play through mistakes when you are playing five games that week and you have to win with no training camp or a short one."
Self said he will check with general managers on the status of his players.
"The big thing is to have an open line of communication with them and their families," Self said of the NBA hopefuls. "Selfishly, we all want everyone to always come back, but kids have to do what's best for them and their families. If the time is right, they need to go. If the time is not right, they need to stay."
He added: "In my opinion, if you don't go in the first round, then you've wasted an opportunity. There are 60 people that should be guaranteed to be first-round picks, and there are only 30 picks, so somebody's going to get left out."
Of the Morris twins, Self said: "To me, this is the best front line in the country, and they can get better. I think those kids can play at the next level. I don't know if the timing is quite right for them. A lot of people out there think a lot of them, and they should because they are both really good."
Of freshman Josh Selby, whose stock reportedly has dropped significantly since his senior year in high school, Self said: "Talk about the number of games he missed (to NCAA suspension, injury), breaking his hand in the summer, missing 30 practices (while in NCAA limbo), he hasn't had a chance to develop into what they (Final Four guards Kemba Walker, Shelvin Mack, Joey Rodriguez) have because he hasn't gotten the reps. He's going to be fine. He needs lots of reps."
Of sophomore Thomas Robinson, who some draft sites say is a first rounder because of his body and rebounding ability: "He's terrific. He can be very inconsistent. He needs to take a step like Markieff took this year. It's amazing to me the type of year he had considering all of the stuff he went through (death of mom, grandmother, grandfather). Hopefully he can play with a free mind and be able to just play as opposed to think and have so many different things going on in his head."
Asked if Robinson's family situation would make it easy to understand his possibly turning pro, Self said: "If it was best for his family, then I would say that. I don't know if that is the case now. It could be. I just don't know. He has a good motor, great body. He has room for improvement."
•
Self on the disappointment of losing to VCU in the Elite Eight: "Regardless of seeds, regardless of whatever, we were the better team (compared to VCU) in my opinion," he said. "We weren't that day, but we were the better team, and that's tough to stomach. That's what life's all about. When an opportunity presents itself, you have to pounce on it. I won't get over it for a long time, nor should I. But it doesn't take away from the fact that you really look and analyze who we lost, what we had coming back, different roles the players had, suspensions, deaths, injuries. All the things added up where there's no way this team can be 35-3."
•
Self says the future is bright: "These guys will rally around and our program, will be back in that same game again real soon. There will be a different result. It's just tough to swallow because it was set up so good for us. I really thought we'd play for a national championship this year."
•
Self has to attend NABC meetings in Houston later this week: "It's tough going there whenever you feel you should still be playing," he said of the Final Four.
•
USC game in Wichita: KU's road basketball game against the University of Southern California next season will likely be played in Wichita's Intrust Bank Arena, KU officials indicated Tuesday.
"This is the second game of a home-and-home series. We played the first game here last season," KU associate athletic director Jim Marchiony said. "USC approached us about playing their home game in Wichita, rather than Los Angeles."
The game will be played sometime in December. No ticket information is available since the deal has not been finalized. USC would keep all the gate receipts since it would be its home game.
Intrust Bank Arena seats 15,000. USC's Galen Center seats 10,250. KU last played a game in Wichita in the 1991-92 season, versus Wichita State.