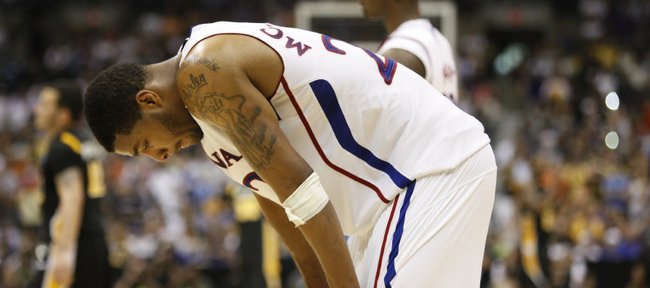 San Antonio — Marcus Morris, who tried but failed to hold back the tears, sat at his Alamodome locker with his head pointed straight down.
Kansas University's junior forward spoke in a barely audible whisper after the top-seeded Jayhawks' 71-61 loss to No. 11-seed VCU in Sunday's Elite Eight shocker, which was witnessed by a tiny crowd of 14,299 spread out in the massive football stadium.
"I feel I let everybody down," Morris said after scoring 20 points off 8-of-19 shooting in what could have been the last game in his three-year KU career.
The 6-foot-9, 235-pounder from Philadelphia missed three three-pointers without a make on a day the Jayhawks missed 19 of 21 from beyond the arc. Also, he was 4-of-8 from the free-throw line on a day the Jayhawks (35-3) made just 15 of 28 charities.
Meanwhile, VCU (28-11) hit 12 of 25 threes and 17 of 22 free throws, making it easy to see why the Rams of the Colonial Athletic Association reached the Final Four over the Jayhawks of the Big 12.
"They were the better team," Marcus Morris said. "We couldn't get any shots to fall. The lid never came off for us. We'd never played anybody like that all year that could shoot like that, with multiple players who stretched the defense."
Morris was one of two Jayhawks who needed to be helped off the court by assistant coach Danny Manning after the final horn sounded. He wept on KU's bench along with freshman Josh Selby, who scored two points off 1-of-5 shooting. Selby went 0-for-3 from three.
In the locker room 15 minutes after the game, senior Brady Morningstar, who scored two points off 1-of-7 shooting (0-for-3 from three), stood facing a wall, his hands placed behind his head.
Junior Tyshawn Taylor (14 points, 6-for-9 shooting, 2-for-5 from the line, 0-for-2 from three) sat with his head buried in his hands.
"It sucks," Taylor said. "I feel I've been on the best two teams I've ever played on (last two years in which KU lost in second round and Elite Eight as No. 1 seeds).
"I know it's going to be that much harder next year with us losing Tyrel (Reed), Brady and Mario (Little, two boards in five minutes)."
KU led 6-0 early, but saw things go downhill soon after. The Rams, who hit nine of 17 first-half threes to KU's two of 11, went on a 30-11 run, turning a 10-9 deficit into a 39-21 advantage with four minutes left in the half.
"We didn't get to shooters multiple times, didn't play to scouting report several times. The basket got bigger for them and smaller for us," KU coach Bill Self said.
"They were the aggressor. Our whole deal is, 'They are a scrappy team. We've got to be scrappier. Attack. Attack.' They were the ones on attack much more than us."
KU, which trailed, 41-27 at halftime, did mount a huge comeback. Led by Taylor, who scored nine points, the Jayhawks went on a 17-5 run and trailed by just two, 46-44, with 13:05 left.
VCU made a quick statement, hitting KU with an 11-3 run to build another 10-point lead at 57-47 with 8:49 left.
KU lagged by just five points with 5:12 left, but actually could get no closer than that the rest of the way.
"It does," Taylor said, asked if battling back from a huge 18-point deficit takes a lot out of a team, even one as talented as KU. "It's fighting from behind. It's like swimming upstream almost, going against the water. It's tough, man, real tough."
Of the comeback, Self said: "I don't think that took much out of us. I don't know. Maybe emotionally a little bit, but I don't think physically.
"We cut it to two, and then we don't hedge the ball screen, they get a dunk, and we throw the ball over in the corner and get trapped and turn it over. Next thing you know, two becomes seven. We just didn't have it where we kept putting pressure on them. We kept saying the pressure would shift to them with the lead, if we can keep it within distance, and they did a great job keeping us at that four- to six-, seven-point range."
Self complimented VCU for playing "great" — Jamie Skeen and Brandon Rozzell were the only two in double figures with 26 and 12 points respectively — but also lamented his own squad's overall play.
Shooting 35.5 percent overall and 2-for-21 from three with 13 missed free throws isn't a good formula for victory in the Elite Eight.
"They didn't take our best shot today. That was not our best shot, but they had a lot to do with it not being our best shot," Self said. "We shot it miserably. We turned it over so many times when our post guys had it. That's not characteristic of us. We just didn't have it today offensively."
He was asked by a reporter if this one felt like a "kick to the gut."
"Yes it's a kick to the gut for our program and our players," he said. "I think it's kind of a microcosm of life. When you care a lot, invest a lot, it could be in relationships or whatever, when it doesn't go well, it hurts. This is one situation where it definitely hurts. You could say kick in the gut, a lot of things, they would all be true."
Yet ... "There will be a point in time we say 35-3 ain't bad. Big 12 championship, tournament championship, Elite Eight, that ain't bad," Self said. "A lot of people would sell out for that. I will say without hesitation how hard these guys played, how hard they tried. This team has been through a lot. If you told us before the season we'd go 35-3, win a couple championships losing two lottery picks and best player, I'd say that's a pretty good year, but when you put yourself in position to cash in, you have to take advantage of it. As much as I'd like to think it, these opportunities don't happen every year. You've got to make most of them. We didn't make most of 'em."
More like this story on KUsports.com