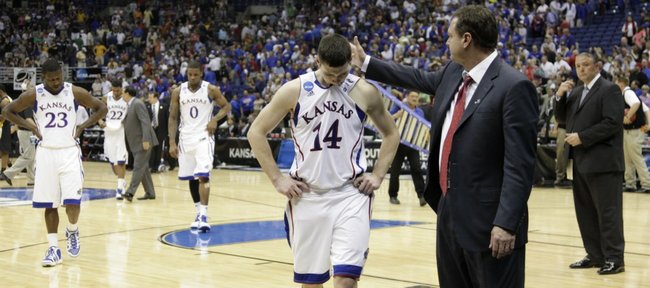 San Antonio — When he returned to the locker room following Kansas University's 71-61 loss to VCU on Sunday, KU senior guard Brady Morningstar knew he had to say something.
Morningstar, who had entered the room with tears in his eyes, stood up in front of his teammates while many of them still had their heads buried in their hands.
"I just told the guys ... I just told the guys I love them to death," Morningstar said, wiping away tears. "Everything we've been through, we're still a team, whether you win or lose."
For Kansas natives Tyrel Reed and Morningstar, Sunday's loss was made more difficult after both had tough shooting games.
Morningstar, a 50-percent field-goal shooter, went 1-for-7 from the floor and 0-for-3 from three-point range.
Reed, a 38.8-percent three-point shooter, made just one of seven threes and one of nine shots overall.
"We're never going to wear the jersey again. We're never going to feel what it's like to be a Jayhawk and be on that court, representing Kansas," Reed said. "It's tough. Point-blank, it's tough."
Reed's 11.1 field-goal percentage was his lowest mark of the season.
"I didn't play well at all," Reed said. "I had open looks. I had wide-open shots that I feel like I'll knock down nine out of 10 times. They just weren't falling today — for anybody, I guess, myself included."
KU coach Bill Self mentioned many times this year that Reed often is his own toughest critic, and that showed again Sunday. After one missed free throw in the second half, he showed his frustration by stubbing his sneaker hard into floor.
"I could tell on the court, right after he missed a couple shots, especially later on, it just looked like he felt like he'd let us down," KU teammate Conner Teahan said. "But he hasn't at all."
Teahan, who red-shirted this year, has been at KU alongside Reed and Morningstar the last four years at KU. He also played with Reed during high school on the AAU team KC Pump N Run.
"He thinks that if he does something wrong, he's letting the team down so much, and we all respect that," Teahen said. "And ... "
Teahan dropped his head and broke down, taking a few seconds to compose himself.
"I just keep thinking about it being their last game," he said of Reed and Morningstar.
Even in a tough moment, Reed said he was thinking of others before himself.
"I'm just more worried about all these guys and just how sad it is for them," Reed said. "I'm not worried about myself. I'll be fine. I love all these guys."
Morningstar said he one had thought on the sideline during the final seconds of his career.
"A heckuva run," Morningstar said. "I wouldn't trade it for anything. I wouldn't trade these guys for anything."
He told them so in the locker room after his last college game.
"I just wanted to let everyone know, regardless of what the outcome is, we're all family," Morningstar said. "We all love each other."
More like this story on KUsports.com