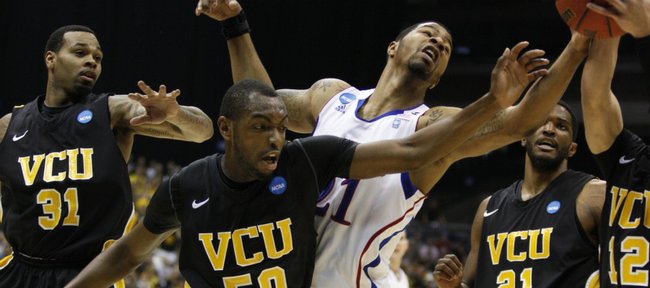 SAN ANTONIO, TEXAS — For the second time in two games, someone on the Kansas University men's basketball team tried to use intimidation tactics to rattle an opponent.
It worked for one round, but did not the next.
"It was one of them, I don't know which one," VCU point guard Joey Rodriguez said about KU twins Markieff and Marcus Morris after VCU's 71-61 victory over top-seeded KU on Sunday. "It was when the captains were shaking hands, and he was like, 'You all had a great run, but it's about to come to an end.' That's all he said. Throughout the game, he was cool."
The early jab was enough to get VCU's attention. Rodriguez, who was joined in the pregame meeting by teammates Bradford Burgess and Ed Nixon, raced back to VCU coach Shaka Smart to tell him what he had heard. Word spread quickly throughout the VCU bench, and, after a half, the Rams led Kansas by 14.
The Jayhawks ripped off a furious second-half rally to get back within two, but VCU never gave up the lead and, in doing so, became the first team to win five games to reach the Final Four.
One of the lasting memories of this game for VCU fans will be the cool, calm and collected Smart getting hit with a technical foul four minutes into the second half.
KU's Tyrel Reed hit one of two free throws, Tyshawn Taylor followed with a layup, and VCU's lead was down to 43-39. The Rams answered with a 12-7 run and pushed the margin back to nine. Asked if he thought the "T" fired his team up, Smart was frank.
"I hope it did," he said. "I try not to get technical fouls. It's the first technical I've gotten all year."
Added VCU athletic director Norwood Teague: "That was very out of character. I've been telling him he needed to get a technical sometime, and he does it in the freakin' regional final, which was great. I think it fired up our team."
Teague continued: "This was just so big for us as a university and an athletic department. We brought about 1,000 (fans to San Antonio). For the Final Four, I don't know. I'm sure most of Richmond (Va.) will be down there."
Eleventh-seeded VCU (28-11) will play Butler (27-9) in the Final Four on Saturday in Houston.
More like this story on KUsports.com