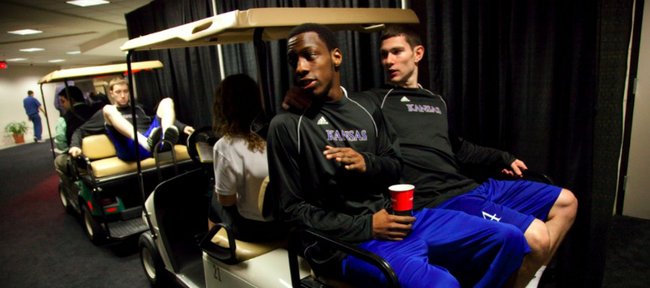 Videos
Pregame: KU vs. VCU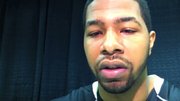 Kansas will take on Virginia Commonwealth in an Elite Eight matchup Sunday, March 27, 2011.
San Antonio — Tyshawn Taylor's smile was as wide as he could make it.
During a 30-minute interview session Saturday, the Kansas University junior guard was told by a reporter that KU coach Bill Self had just complimented him a couple rooms away, saying Taylor had grown up as a person.
"I appreciate that, Coach," Taylor said softly, as if Self were sitting there next to him.
For Taylor, the praise means a lot.
"I'm one of those guys — I think coach Self kind of knows this — when's he's happy with me, I'm a happier person. When he's not happy with my play or what I'm doing off the court, it kind of gets me down," Taylor said. "I'm happy any time he says good things about me, especially something like that, because it's not just on-the-court stuff he's probably talking about."
For three years, more than anything, Taylor has wanted to please his coach.
"Anything I do on the court, I'm thinking about what he's going to think or what he's going to say about it," Taylor said. "When I make a turnover on the court, my first instinct is to look: What's his reaction right now? What is he thinking? Is he jumping up and down? Is he like, 'It's OK'? What's his mood?"
Lately, Self hasn't had too much to get upset about.
In the NCAA Tournament, Taylor has averaged nine points, six rebounds and three turnovers on 10-for-19 shooting from the floor (52.6 percent) and 3-for-7 shooting from three-point range (42.9 percent).
Saturday, Self said Taylor might be playing the best basketball of his career.
"He's growing up, and he's doing it right before our eyes," Self said. "And when he's good, which I believe he's been good a lot lately, he can put pressure on both ends like no one else in our program can."
Taylor said learning from a suspension in late February was part of the reason for his recent surge.
The junior sat out two games after violating unspecified team rules. After the incident, Taylor visited Self's office.
"I kind of broke down to Coach," Taylor said, "and I just told him, 'Coach, there's a million things going on right now, and it's hard for me to just focus on basketball. I know that's supposed to be my main priority, but it's hard. It's so hard.' And he understood."
At the time, Taylor said his family was going through some tough times; his mother has never been married, and Tyshawn's father and his two sisters' fathers aren't a part of their lives.
"I've always been the man in my family from a very young age," Taylor said. "So when things go wrong in my family, my sister, she runs to me. I'm the person she talks to. When my mom is stressing out, I'm the person that she runs to talk to.
"So I just deal with a lot. I deal with a lot."
Taylor said his family's issues have been resolved, as his mother and sisters are happy now and also are starting to lean more on others when they need someone to talk to.
During his two-game suspension, Taylor also saw the Jayhawks were playing just as well without him as they did with him.
"I just kind of realized that (Self) doesn't owe me anything. I owe it to myself to want to be a part of this team, to want to help us win," Taylor said. "I just felt like I came out with a different attitude after that."
After returning, Taylor said he worked harder to be a better teammate and also to lead as much as he could. He wanted to prove to his teammates and coaches that he deserved to be on the floor.
Taylor regained his starting role in the Big 12 tournament championship game against Texas in his fifth game back from suspension.
"Coach Self has been with me the whole time, stuck with me, never gave up on me," Taylor said. "Got frustrated with me, yelled at me a couple times, called me a bunch of different names a bunch of times.
"Like a parent, kind of, I think coach Self gets mad, and he gets disappointed in me sometimes, but he never gives up on me."
Taylor says he now treats life a lot like he does basketball.
For a long time, Self preached to him to always think, "Next play," though it was difficult for Taylor. He was the kind of guy that allowed one turnover to turn into two, and two to turn into three.
When he makes a turnover now, he says he focuses on getting a stop defensively.
And when he makes a mistake in life, he focuses on learning from it and not letting it happen again.
It's a lesson he's learned from experience. And from Self.
"When he says I grow up, it means a lot to me. It means a lot to me," Taylor said. "That's just what I want to do."
More like this story on KUsports.com