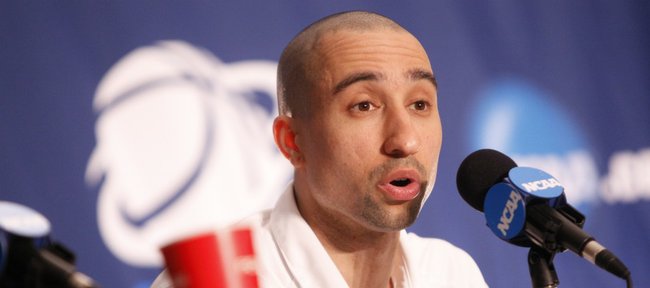 Videos
Pregame: KU vs. VCU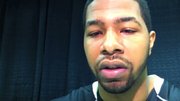 Kansas will take on Virginia Commonwealth in an Elite Eight matchup Sunday, March 27, 2011.
VCU notes
San Antonio — Maybe they learned from the way Richmond handled things when the Spiders took their turn at toppling Kansas University on Friday night and failed.
Maybe, because of their label as a mid-major, they're more comfortable this way.
Maybe it's just who they are.
Regardless, during Saturday's media session at the Alamodome, the Virginia Commonwealth Rams were open and accepting about their role as big-time underdogs in today's 1:20 p.m. matchup with top-seeded Kansas.
"One of my sisters showed me something where it said Kansas now has a 44 percent chance of winning the national championship, and we have a 0.9 percent chance," VCU coach Shaka Smart said. "So it's kind of like the movie 'Dumb and Dumber,' 'So you're saying we've got a chance.'"
VCU was a perfect picture of team unity in how it responded to questions about the Rams' underdog status.
"There might be pressure for Kansas," VCU point guard Joey Rodriguez said. "They came in thinking they were supposed to win a national championship. We weren't even supposed to be in the tournament, let alone the Elite Eight. If we lose, we still had a great season. If they lose, it might be disappointing to them."
Asked what opened his eyes most about the Jayhawks, VCU senior Brandon Rozzell said: "What doesn't impress you is the question. From the starting five to about six guys on the bench, they're amazing. They're big, they're physical, they're strong. They can shoot the three, they can take you off the dribble. Anything you ask for in a great team, they have. So we're gonna have to come out and play our best basketball if we want to win."
That VCU is in this position is rather remarkable. Because the NCAA Tournament expanded from 65 to 68 teams this season, the Rams already have played one more game than the other teams still alive. Tossed into one of four play-in games that kicked off the tournament, 11th-seeded VCU rocked USC by 13, then knocked off No. 6 Georgetown and No. 3 Purdue by 18 before outlasting Florida State, 72-71 in overtime, two nights ago.
With the emotional ups and downs of losing in the conference tournament and wondering if they'd be left out of the Big Dance to preparing to play KU in the Elite Eight, it would be easy to question if this team had anything left in the tank. The answer, from all corners of the VCU locker room, was an emphatic yes.
"Concerns send you home at this point," Smart said. "Excuses send you home. The teams advancing in the NCAA Tournament, they don't look at the glass half empty. They don't look at the roadblocks on the way. We've got a tall task on our hands. But if we sit back and think about being fatigued or having played an extra game or how much time we've spent or how much time we've slept, that's the quickest way to go home. And we don't want to go home. We want to advance."
Added Rozzell: "We are built for this."
Said junior Bradford Burgess: "Our strength and conditioning coach, Daniel Roose, he's just crazy. He just pushes us so hard, even harder than we think we can go. That's what makes us go. When other teams think they can't go anymore, we're still foot-on-the-gas, still going."
The question of fatigue enters the conversation with most teams at this time year. But Rodriguez insists that it will not be a problem for the Rams tonight. Asked why, Rodriguez said, "Just try to remember when you were 20."