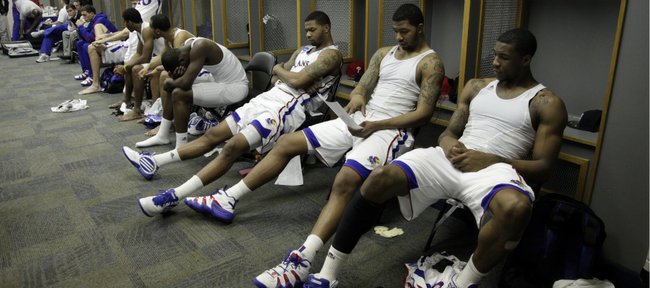 San Antonio — The Morris twins didn't say if they were staying at Kansas University or leaving for the NBA Draft after Sunday's Elite Eight loss to VCU in the Alamodome.
They have some time to finalize their plans.
Players have until April 24 to declare for the draft. Those who do not sign with agents can withdraw by June 13.
"I love this university and this team. That's the main thing," junior center Markieff Morris said after scoring 13 points, grabbing 12 rebounds and committing eight turnovers while playing 32 minutes in KU's 71-61 defeat.
"Whatever decision is made will be the best decision for us and my family. It'll be a tough decision. I'm not sure what I'm ready to do yet. I need to sit down and talk to my coaches and my family about my future and my brother's future. Whatever happens, it will be the best decision," Markieff added.
Junior Marcus Morris' statement on the matter was not as long. "I don't know. I'm not really sure," he said of his plans for next season.
KU sophomore Thomas Robinson, who said recently he definitely would be back for his junior season, was not saying that after Sunday's game.
"I'm not thinking about that. Whatever's the best decision for me, that's what I'll do," Robinson said. NBAdraft.net has cited unnamed sources as saying Robinson is headed for the draft.
Junior guard Tyshawn Taylor implied, but did not say for certain, he would be back for his senior season.
"I really don't think I'm one of those guys who has got to make a decision," he said. "Everybody knows who the guys who have to make the decision are. I think I know what I'm going to do, but that's not really my focus right now."
Pressed on the matter, Taylor said: "I don't think it's anything I really have to think about."
Is his decision good news for fans?
"I guess so, guess so. I don't know, man. It's not my focus right now," Taylor said.
Also, freshman Josh Selby (see related story) indicated he would need to consult family members before finalizing his plans.
All-regional
KU's Marcus Morris was named to the All-Southwest Regional team with VCU's Bradford Burgess, Joey Rodriguez and Brandon Rozzell. Jamie Skeen of VCU was most outstanding player.
Point guard shines
KU's Marcus and Markieff Morris were impressed with VCU point guard Rodriguez, who had nine points, five rebounds, five assists, four turnovers and two steals.
"He controlled the game," Marcus Morris said. "He kept his guys settled, even when we were coming back."
"Their point guard runs the team, and he made passes, and then they made their shots. That killed us," Markieff said.
Not following orders
KU's players failed miserably in one area.
"We didn't follow the scouting report like we should have in the first half. They got some open shots and knocked them down," KU's Taylor said of guarding the three. VCU hit nine of 17 threes the first half and three of eight the second.
"They made us pay for not doing what we were supposed to do. We did a lot of stuff we weren't supposed to do, and they capitalized on it," Taylor added.
Noted Tyrel Reed: "There were times we just didn't play the scouting report. We gave open looks. They're a great three-point shooting team, and you can't let them get on a roll. We didn't defend the three-point line like we should have. Give credit to them, they were knocking them down. But it was a poor performance by us guarding the three. That was basically it."
Added Markieff Morris: "We knew they wanted to shoot threes. We didn't get out to stop them."
Brick city
KU hit 35.5 percent of its shots and missed 19 of 21 threes.
"It happens," Brady Morningstar said. "When teams miss shots, you have to find another way to stay in the game. The ball didn't go in today. It's tough to win when you are not making the shots, when a team is on a roll like that."
"I don't think we've shot that bad from the three-point line and from the field," Reed said. "We had good looks, I thought. We got some open shots, and down low, the ball wouldn't fall as well. I don't think we ever lost confidence that we weren't going to make shots. We kept shooting them. They just didn't go in."
Of the threes, coach Bill Self said: "We just didn't make shots. You look at it and say, 'Why did you take 21 threes?' A lot of those were late, best shooters shooting them. The guys that go 1-10 finish first and third in our league for field-goal percentages (Morningstar, Reed). You play to your law of averages a lot of times, and it just didn't work out today."
Quite a matchup
Self on No. 11-seed VCU and No. 8 Butler advancing to the NCAA Final Four semis: "I think what it does, as much as anything, it just puts a spin on the NCAA Tournament. It's wild. A lot of people said we caught breaks. I don't know if we caught any breaks or not. I didn't feel we caught any breaks. Seeds are so overrated, it's about matchups. Their players could play for us any day. If we played 'shirts and skins' today, you wouldn't have much of a difference on players or how they look. They've got some good-looking kids. They got what they deserved today. They outplayed us."
Technically speaking
VCU coach Shaka Smart was whistled for a technical with 15:43 left. Reed made one of two free throws, and KU scored on its next possession to slice what once was an 18-point deficit to 43-39.
"I felt like the momentum was switching in our direction," Reed said. "We had opportunities. We just couldn't quite get over the hump. And VCU kept making plays, kept knocking down shots and attacking. We just didn't quite have it today."
Free-throw woes
KU hit 15 of 28 free throws to VCU's 17 of 22. "We missed, like, 13 free throws, and it's hard to win when you miss that many free throws," Taylor said. "Then we went, like, 2-for-21 from the three-point line."
Scrambling team
How much did KU's chasing on defense hurt the Jayhawks offensively?
"I think we just missed some easy ones," Taylor said, "and they made some tough ones. They got a lot of open looks, and they got some contested shots that went in. They just hit some big shots."
Overconfident?
Was No. 1 seed KU overconfident playing No. 11 VCU?
"No. I think we understood this year you couldn't look ahead," Morningstar said. "You saw the roll that VCU was on, and they continued their roll by hitting shots. When teams hit like that, you have to defend. When you don't defend, you dig yourself a hole, and you have to try to make a comeback. It's a lot easier to play with the lead than without the lead. The first half was the key to them winning this game (in building 18-point lead; 14 at half)."
More like this story on KUsports.com