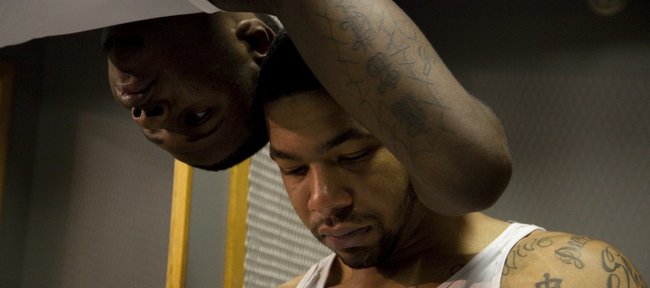 SAN ANTONIO, TEXAS — When Kansas University freshman guard Josh Selby woke up Sunday morning, he had a Final Four in his sights and a handful of "Happy Birthday" texts on his phone.
By the time he went to bed, there was nothing happy about his 20th birthday.
"This is actually a worse day for me because it's my birthday," said a dejected Selby in the KU locker room following the Jayhawks' stunning 71-61 loss to VCU in the Elite Eight. "I'm just gonna try to sleep it off, wake up tomorrow and spend time with my teammates and my family."
When he arrived at Kansas as one of the most hyped recruits in school history, Selby was an almost-certain one-and-done player. But the play that elevated him to that level never really surfaced at Kansas. Other than a stellar debut against USC, in which he scored 21 points on 5-of-8 three-point shooting, Selby never really got going. A nine-game suspension held him up initially, and injuries broke his rhythm the rest of the way.
For the season, the 6-foot-2 guard from Baltimore averaged 7.9 points and 20 minutes and shot 37 percent from the floor and 36 percent from three-point range.
Through it all, Selby maintained he was not worried about individual statistics, only winning a ring. That's what made the pain of Sunday's loss sting so deeply.
"I can't even explain it," Selby said. "I'm goin' through it right now. I haven't felt this bad since we lost my senior year (of high school) in the states. People go to Kansas to win championships. That's the reason why I came to Kansas. And we were close. It just didn't happen for us."
Now, Selby must decide whether the one-and-done premonition many people had before he ever played a game at Kansas was on the money or off the mark. Selby said the heartbreaking loss did not add weight to the decision.
"I wouldn't say there's more to think about," he said. "Try to get this loss out of my head first and then ... I don't know. I'll just talk it over with my mom. I don't know."
What he does know is that his 20th birthday will not be one he looks back on fondly.
"I can't put it in words. I can't even explain it," Selby said. "It's just a feeling that you don't want to have."
Selby is one of as many as five Jayhawks who could leave Kansas early to go pro. Junior forward Markieff Morris is another, and he said he believed all of them would at least discuss their decisions together.
"Definitely," Morris said. "These guys are my brothers, they're my family. ... They'll definitely be a part of whatever decision we make."
More like this story on KUsports.com