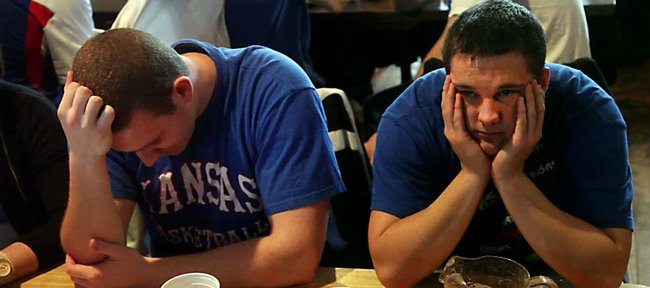 Snow showers only dampened the mood of Jayhawk fans who poured out onto Massachusetts Street Sunday after Kansas University's heartbreaking loss to Virginia Commonwealth University.
"Just another March Madness letdown," Andrew DeBoest said.
He was among a trio of KU seniors who were on their way home after watching the game at Quinton's, 615 Mass.

"We were ranked No. 1, and it was ours to lose," said DeBoest, who was among the thousands of Jayhawk fans in Lawrence stunned by KU's 71-61 loss.
DeBoest's friend Mary Suellentrop said the seniors were hoping to bookend their college years with NCAA titles. They were freshmen when KU won the 2008 National Championship.
"We were looking for a freshman/senior win. We thought it was our year," Suellentrop said.
The mood was just as bleak for the fans leaving Buffalo Wild Wings, 1012 Mass.
"Next year," KU alumna Heather Dover said.
"We keep saying next year, but then we keep blowing it," her friend Robin Carver said.
They were among a group of 12 who had racked up a bar tab of over $1,000 as they watched the game.
"That's how much we support our team," Carver said.
The loss wasn't easy for Buffalo Wild Wings general manager Chris Smith to take, either.
"I can hear the sales going down the drain," Smith said as the crowd shuffled out the door. But it was more than just money.
"We want to see them win just as bad as everyone else does," he said.
Earlier in the day the spirit was much more jovial at the restaurant. Nearly four hours before tipoff, fans began staking out seats for the big game.
Among the first to arrive was James Koop, who came from Blue Springs, Mo., with his family.
Along with a full wardrobe of crimson and blue, Koop proudly displayed a Jayhawk tattoo on his calf.
"It's KU, one of the best teams in the nation," Koop said. "We are winning this."
The restaurant was full by 11 a.m. An hour before the game, the bar replayed the final five minutes of KU's 2008 championship game against Memphis.
Matt Meyer had been at the restaurant since 9:45 a.m. and was ready for a win.
"I'm feeling pretty confident. The team is kind of on a mission right now," he said.
Tom Wilkerson, owner of Jayhawk Spirit, 935 Mass., also was optimistic about KU's chances going into Sunday's game.
"I really feel good about this bracket," Wilkerson said.
He was wearing the store's biggest seller — thanks to actor Charlie Sheen — a T-shirt that read "Winning! Duh." Next to the catchphrase was a Jayhawk.
Wilkerson had hoped the next big seller would have been the Final Four shirts in Jayhawk colors that were already at the store, but not yet for sale.
"We'll start selling them as soon as they win," he said.
That never happened.
By half-time, the atmosphere had turned a "little grim" at Free State Brewing Company, 636 Mass.
Joy Harris was among the couple dozen people perched around the bar watching the game.
"I'm a little anxious. But I still have hope," she said just as KU was starting to mount a comeback in the second half.
The hope dwindled in the final minutes of the game as VCU once again established a healthy lead. As the seconds ticked down, fans at Buffalo Wild Wings began heading outside into the snowy weather.
"We gave it away," Dwight Clarkson said with a shrug.
More like this story on KUsports.com