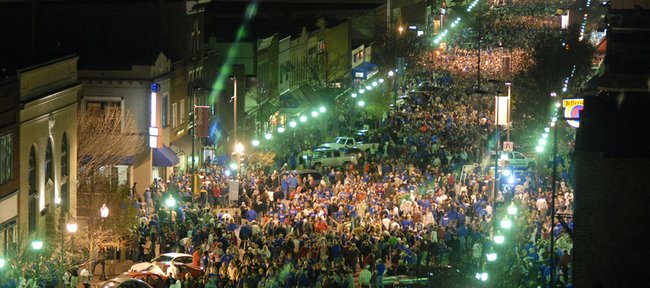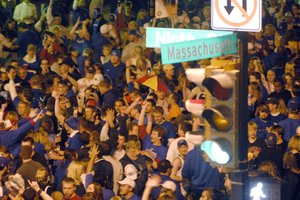 If the Kansas University men's basketball team wins their Elite Eight game Sunday and advances to the Final Four, law enforcement agencies are prepared to handle large downtown celebrations.
Lawrence Police Chief Tarik Khatib said the city has been planning for weeks, especially for how to manage big crowds during Final Four weekend.
"We want KU to win obviously, but then all the activity takes place in the background as far as making sure we have a very safe environment," Khatib said.
In 2008, after the Jayhawks defeated the Memphis Tigers in overtime to win the national title, an estimated 40,000 people celebrated on Massachusetts Street. Two nights before that win, a large crowd partied downtown when KU defeated North Carolina to advance to the title game.
No major incidents were reported as part of the 2008 celebrations, and officers were generally friendly with the crowd.
"We don't want to be so friendly that we're oblivious to everything that's going on, but we can be interactive and create a safe environment and try to catch things before they happen," Khatib said.
Police have been working with downtown bars in recent weeks requesting they serve drinks in plastic cups instead of bottles, which can cause more damage if they're thrown or if they break.
Mike Milne, general manager of It's Brothers Bar and Grill, 1105 Mass., said he has stocked up on extra plastic cups in preparation for a Final Four party.
"We're going to abide by it and try to make their job easier," he said.
At their meeting Tuesday evening, Lawrence city commissioners will debate a temporary ordinance to prohibit anyone carrying glass bottles or other containers on downtown streets and sidewalks effective Saturday, April 2, through Tuesday, April 5.
Khatib said officers from other area agencies will be available next week to help handle a large celebration.
"Let's celebrate safely. You don't have to be inebriated to have a good time," he said.
While Khatib said the department is not encouraging people to congregate downtown if KU wins Sunday, he said extra officers, including some from Overland Park, will be on duty in case a crowd gathers to celebrate.