Videos
Pregame: KU vs. Richmond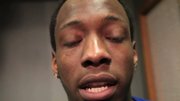 Kansas takes on Richmond in the Sweet Sixteen of the 2011 NCAA Tournament.
San Antonio — When Kansas University freshman guard Josh Selby is asked about the Baltimore neighborhood where he grew up, he shakes his head, says very little and comes across a bit like a veteran of a foreign war who just doesn't want to go there.
What, I wondered, was the most difficult thing he ever witnessed in Baltimore?
"I don't think I want to talk about that one," Selby said from a chair in front of his locker in the Alamodome. "I just saw some stuff. I just saw some stuff. I don't want to talk about that."
The question surfaced after Selby said he thought Baltimore, per capita, produces the best basketball players in the nation.
What makes it so?
"Just because of our toughness at heart, that's why," he said.
From where does that come?
"Being in Baltimore," he said. "If you saw Baltimore, you'll understand why. I can't talk about it, but you'll understand why if you're in Baltimore."
Rough neighborhoods tend to develop basketball talent.
"It's true because I think it just carries onto the court," Selby said. "What you learn from the street or in your normal life, you take it over to basketball. If you see certain things or you've been through something that's going to make you mentally and physically tough, you're going to carry that same attitude onto the basketball court."
KU assistant coach Kurtis Townsend took multiple trips to Baltimore to recruit Selby.
"It was unbelievable," Townsend said of the neighborhood. "It was awful. If you've ever seen 'The Wire' on HBO, that's exactly how it was. I mean, boarded-up homes. He came from a tough area. His mom did an unbelievable job getting him to the point he's at without getting seriously injured before then."
Once Selby made a name for himself on the playgrounds of Baltimore and in AAU games, he said word spread, "Real quick. I was just handling my own against older and younger."
He said he prefers playing basketball outdoors.
"You can talk trash," he said. "You got the girls, the crowd. It's just a fun game, that's all. Fun atmosphere."
You lose the game, you lose the court, which stokes competitive flames and brings out the best in the players.
"So it does," Selby agreed. "And then the trash-talking brings out the toughness."
Was he good at trash-talking?
"Great at it," he corrected.
Is he still?
"Yep," he said, "just don't do it as much."
It's a tough thing to do from the bench. That's where Selby was for the season's first nine games, serving an NCAA suspension for receiving improper benefits. Then he played 13 games, and played well in all but a few of them. Then he injured his foot, missed three games and has lost more than playing time since returning.
Even the playgrounds of Baltimore didn't prepare him for the sort of slump he has endured since returning from a stress reaction.
"There's no injury now," Selby said, looking down at his foot. "It healed."
The same can't yet be said for his jump shot.
In the 13 games before the injury, Selby averaged 26.6 minutes and 12 points and shot .419 overall and .435 from three-point range. In the 11 games since, Selby has averaged 13.8 minutes and 3.5 points and shot .280 overall and .167 from long distance. Before the injury, he hit multiple threes in nine games. He has not hit more than one in a game since. In his first 13 games, he reached double-digit points nine times and hasn't reached it since.
Selby scored 21 points in 27 minutes off the bench in his much-awaited debut against USC. It remains a career high and is eight more points than he has scored in the past 61 minutes, spread out over six games.
The question no longer can be why Selby plays so little, rather why so much. The simple answer: If he can hit a couple of jumpers in a row, maybe, just maybe, the real Selby could return.
Is it possible Selby could this season have another game similar to the one he had against USC, when he made five of eight three-pointers?
"I don't know," Selby said. "Whatever happens, happens. I might can, might can't."
Townsend spoke to why Selby hasn't matched his pre-injury performance.
"It's not from lack of effort or anything like that," Townsend said. "He never got back in the rhythm, and then you know how that goes, he's just got to have one of those good games to get his confidence back."
Selby said on days the Jayhawks don't have practice, he puts up 500 shots a day in the practice facility after punching the right numbers on the door's combination lock. He doesn't bring a rebounder to feed him shots.
"By myself," he said. "I go get the ball."
What does he think about during those solo shooting sessions?
"Everything," he said, revealing nothing.
Making his first two shots tonight in a Sweet 16 game against Richmond could do more for him than all those days of 500 shots at a time.
Again, could he be the player he was against USC?
"I think so," Townsend said. "I've tried to have talks with him to tell him, 'Remember how good you were early? You're still the same player.' It's just a confidence thing, but, boy, I'll tell you what, it's hard to get confidence in one of these games on one of the biggest stages. I think if he just hits a couple of shots, gets his mojo back, he'll be fine."
Time is running out on any chance to justify the wild hype, but it's not as if the excitement grew from nothing.
"He was everything they said he was coming out," Townsend said. "Even at the McDonald's practices, I had a few NBA guys tell me, 'Hey, he's a big-time player.' He'll be fine."
Richmond prides itself on playing great defense. A turn-back-the-clock game from Selby wouldn't hurt KU's chances of avoiding an upset.
— Tom Keegan can be heard at 8 a.m. Friday, March 25 on 610Sports.