Videos
Pregame: KU vs. Richmond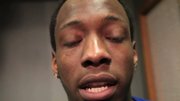 Kansas takes on Richmond in the Sweet Sixteen of the 2011 NCAA Tournament.
San Antonio — Though Kansas University senior forward Mario Little has played just seven combined minutes in the Jayhawks' last two games, it hasn't stopped him from enjoying his final NCAA Tournament.
"It's been good. I didn't play that much, but I've stayed optimistic, positive, waiting my turn," Little said. "It'll come. So I'm good. I feel good we're still here and still playing."
Outside of a six-game suspension earlier this year, Little hadn't played fewer than seven minutes in any game entering the NCAA Tournament.
Last week against Boston University, though, he played just four minutes. Against Illinois, he was only in for three.
"I'm a competitor. I want to play," Little said. "But I understand timing and matchups and positioning. So, I mean, I'm happy for where we're at."
Normally, a team like Richmond — which plays primarily zone defense — would be a great matchup for Little. The 6-foot-5 Chicago native has made a habit this year of getting into the middle of zone defense before draining mid-range jumpers.
Richmond, however, is a little different, as it plays a 2-3 matchup zone — one that acts more like a combination between a zone defense and a man defense, meaning the middle won't be as open.
Lately, Little has concerned himself with improving his defense. He has been working on sliding his feet better, an important skill considering he could be matched up against speedy Richmond guard Kevin Anderson if KU's defenders switch on a screen.
Little also said he and his teammates were preparing themselves for Richmond's backdoor cuts.
"They're so sound, and they're so well coached that once you turn your head, your man could be at the basket already," Little said.
Three years ago, Little came to KU with high expectations after being named Rivals.com's No. 1 junior-college player.
It's been a rough road for much of his time at KU. His first year, he suffered a broken hand and a stress fracture in his lower left leg. Then, after sitting out last season with a red shirt, he was suspended for six games this season after getting arrested on charges of battery.
He returned from suspension on Jan. 12, but in KU's last six games, he has averaged just 7.5 minutes.
"He's kept a positive attitude," KU guard Tyshawn Taylor said. "I think that's we love him so much, and I think that's why coach loves him so much, because he's a good dude."
More like this story on KUsports.com