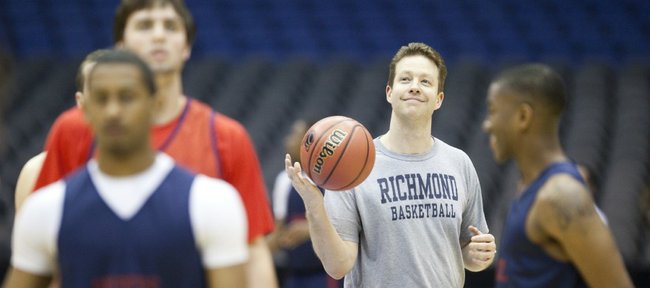 Videos
Pregame: KU vs. Richmond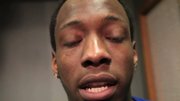 Kansas takes on Richmond in the Sweet Sixteen of the 2011 NCAA Tournament.
San Antonio — University of Richmond basketball coach Chris Mooney went on and on Thursday about the challenge Kansas University's Morris twins pose for his team.
"They present a problem to everybody they play because of their strength, their versatility," Mooney said.
While there are enough coaches out there who share that view to create a good-sized support group, Mooney is hoping his Spiders have a matchup of their own that could give the Jayhawks fits when the two teams square off at 6:27 tonight in the Sweet 16 at the Alamodome.
"I know they're a very good defensive team," Mooney said of KU (34-2). "But I'm not sure if they've seen someone like (senior guard) Kevin Anderson. And (senior forward) Justin Harper is a difficult matchup for some teams."
KU has enough depth at guard to throw a bunch of different looks at the undersized Anderson, Richmond's second-leading scorer at 16.7 points per game.
But the skill set Harper possesses will make his showdown with the twins as interesting to watch as any on the floor.
"That's one of the keys," Richmond sophomore Darien Brothers said. "For them to come out and have to guard our bigs. If we bring them out of their element, it can cause some huge matchup problems."
As a team, the 12th-seeded Spiders (29-7) shot 40 percent from three-point range this season. That number included six players who shot 39 percent or better and was led by a 45-percent clip (75-of-166) from Harper, their biggest player (6-foot-10, 225 pounds) and leading scorer (17.8 ppg). In addition to Harper, starting center Dan Geriot, 6-9, 225, drilled 42 percent of his three-point attempts.
Geriot said scouting Kansas this week had been easy because of the similarities that exist between KU's post players and Richmond's.
"It's advantageous for us because we know how they play," Geriot said. "We do the same thing."
Teammates said Harper, who's built like a world-class athlete but has the shooting stroke and touch of a much smaller gym-rat, won most of the shooting contests conducted in practice throughout the season.
"I like seeing him at the three-point line," UR junior Francis-Cedric Martel said. "Every time he shoots it, it looks like it's going in."
There's a reason for that.
"I'm comfortable on the perimeter," Harper said. "I really worked on my shot, and I think that's what separates me from a lot of other big guys. When we play teams that rely on their big guys, it's kind of frustrating for them when we have guys who can stretch the floor. When we take them out of their comfort zone and make them come guard us, that really plays into our game plan."
While that might have been true during most games this season, it won't necessarily be that way against Kansas.
"Well, we shoot the three pretty well, (for) bigs," said KU junior Markieff Morris, whose 42-percent mark from downtown leads the Jayhawks. "It's not tough for (me and twin brother Marcus) to guard versatile bigs because we guard each other all the time. We've got the best of both worlds, we can guard inside and we can guard outside because that's what we're used to."
Ask the players in the Richmond locker room what the best part about the team's balanced three-point attack is, and they'll tell you the Spiders' stellar three-point shooting is about much more than putting points on the board. Harper said it also works as a way to help the team rebound. Richmond out-rebounded its opponents by just two boards per game this season and was outworked on the offensive glass by nearly 100 rebounds during the course of the year.
While Harper knocks down an average of two triples per game, he knows a large part of the responsibility for controlling the paint falls on his broad shoulders.
"A big part of the rebounding job is on me," he said. "So I can't be on the perimeter too long. I just have to pick my spots and also be able to crash the boards."
Though he's framed a little like Dwight Howard of the Orlando Magic and has been the Spiders' version of Superman, Harper said he can't be in two places at one time.
"No, I'm sorry. I can't do that," he said. "But I'm looking forward (to trying)."
Experience a key
Eleven of the 16 players on the Richmond roster are juniors or seniors. Most of those players have qualified for the postseason four times during their careers, including last year's NCAA Tournament appearance and two trips to the CBI before that.
"They've been here before," Brothers said. "They know what it takes to win, and I feel like this group of seniors and juniors can do what we need to do to win this game."
Harper said experience was particularly important during crucial stretches late in games this season. He also said it helped the Spiders cherish tonight's opportunity instead of being intimidated by it.
"I really look at it like, it doesn't matter who we play, everybody puts their shoes on the same way," Harper said. "They're obviously the favorite, but we're gonna use that as motivation however we can."
Added Martel: "We're just trying to make history. Our school has been to a Sweet 16 before. We're just trying to do more."
Talking 2004
The last time KU and Richmond met came seven years ago, when the Spiders waltzed into Allen Fieldhouse in January of 2004 and knocked off the 12th-ranked Jayhawks, 69-68, in front of a stunned crowd.
Though none of the players on this year's UR roster were present that night, Mooney and his staff addressed the upset earlier this week.
"We've talked about it," Harper said. "And we've watched some footage from that game. We just talk about how anybody can get beat at any given time. That's college basketball."
Ivy League clone?
During his playing days in the early 1990s, Mooney was a four-year starter at Princeton University, where he played for legendary coach Pete Carril. Mooney ranks 20th all-time on Princeton's scoring list, with 1,071 points, and seventh in career three-point shooting with 142. During his days in New Jersey, Mooney led PU to two Ivy League titles and two NCAA Tournament appearances.
After jumping into coaching, first at Air Force as an assistant and head coach, Mooney employed a lot of the Princeton philosophies into his style.
"Playing for coach Carril at Princeton was the most important thing that happened to me," Mooney said. "He's such a tremendous coach, a very demanding person. I'm really proud that I went there and have a lot of memories from there."
Some of those play out in front of him every day, as his teams run a lot of back-cuts and play at a deliberate pace like Carril's teams always did.
"It's not a traditional Princeton system," Harper said. "We've obviously put our own style and our own flair on it. We don't have an ideal pace, but we're generally a halfcourt team. We try to spread teams out and create opportunities for us to score."
More like this story on KUsports.com