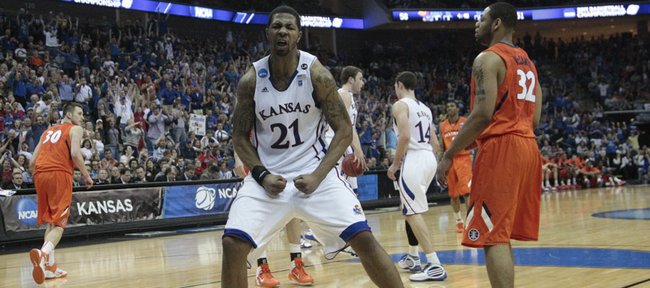 San Antonio — A couple of weeks ago, Philadelphia's Prep Charter High basketball coach, Dan Brinkley, saw one of his former big men do something he wasn't sure was in the player's best interest.
So, just as he did a handful of years ago back in Philly, Brinkley reached out to Kansas University standout junior Markieff Morris and called him on it.
"I saw him putting up signs on the bench the other day, and I kind of sarcastically said, 'Don't flash gang signs on the bench,'" Brinkley said. "I know he's never been a part of any of that, but I also know how sensitive some folks can be to that kind of thing, and I wanted him to protect his image."
One problem. In order for Markieff to protect his image, he first had to create one.
It's not that the 6-foot-10, 245-pound big man was viewed as a trouble-maker. Just an unknown. In fact, the "gang signs" that Brinkley thought he saw offered a peek into Markieff's mind and what was most important to him.
"It's the F.O.E sign," said Markieff, detailing each letter as he demonstrated the gesture he and his twin brother Marcus make to honor their credo of 'Family Over Everything' during starting lineups. "My coach thought I was throwing up gang signs, and I said, 'When have you ever known me to be a part of a gang?' It's definitely F.O.E."
For two years, the man teammates described as a big teddy bear who could get work as a comedian, was known by many outside of the KU program as "the other twin." Because of an opportunity at forward, Marcus, the more natural leader of the two, stepped into college stardom first while Markieff sat back and waited for a chance to join him.
"It didn't really matter to me," Markieff said of having to wait his turn. "Anything to motivate me. That's how it goes. I think it's better to be that way, anyway. Take it step-by-step and take it as it comes. I knew it was just a matter of time. And I just think it's our time right now."
The numbers indicate that's true. Together, the Morris twins tallied 31 points and 16 rebounds per game this season in leading KU to a 34-2 record and a spot in Friday's Sweet 16 in San Antonio.
That Marcus, the Big 12 player of the year, followed up his breakout sophomore season with an even better showing in 2011 seemed expected. In fact, when the player-of-the-year voting took place, many voters seemed hell-bent on thinking it through before casting their vote, insisting that someone else in the conference was more deserving, more valuable.
They looked at the Texas roster and found a couple of candidates. Down the road, in Manhattan, there was another. But the one player who nearly matched Marcus' numbers — 17.3 ppg, 7.4 rpg, 58 percent shooting — never got a look. Even though he averaged 13.4 points and 8.9 rebounds per game while shooting 62 percent and leading the Jayhawks in blocked shots (41), Markieff was tapped second-team all-league.
"Marcus and I laughed at the beginning of the year when people were saying that he could possibly be player of the year because both of us agreed that 'Kieff would have the better year," Brinkley said. "What he's done this year was not even close to a surprise for those who know him."
Included in that group are Markieff's KU teammates, players who, by now, are as much a part of his family as Marcus or his mother, Angel. They're the ones who embraced the Morris twins' F.O.E. mantra and made it the defining phrase of the 2010-11 season.
As he entered his junior year at KU, Markieff knew he would have to step up this year if his team was to be a contender. No problem. After all, it was Markieff who took the first steps to stardom back in Philly.
As high school sophomores, the Morris twins still were growing — growing into their bodies, growing into their games, growing into life and basketball. Markieff found his footing more quickly and became a starter on Brinkley's varsity squad beginning in 10th grade. Marcus came off the bench that year.
"Kieff was a beast," Brinkley said. "Kieff carried us in a lot of ways in high school."
His mother remembers that well.
"People here don't know how he was in high school," Angel said. "He dominated. He was a phenomenal player. And, this year, he's playing like he played in high school."
Added Marcus: "Growing up, I always thought Kieff was better. He was bigger, he could always shoot better. With me being a little more mobile, people always said, 'Oh, he's better because he can do more things.' But that's not really the truth. Kieff can do all the same things I can do, he just leaves them to me."
Markieff's first chance to prove that came during his freshman season. He started seven games that year, but none after the Jayhawks opened Big 12 play. The next year, Markieff started the first two games before giving way to Marcus, who held down a spot in KU's first five for the rest of the 2009-10 season.
"Kieff is the ultimate team guy, and I wasn't surprised, when Marcus took that spot, that Kieff came off the bench happily," Brinkley said. "I believe that it allowed him to become more comfortable, and it made him hungrier."
Because of his size and position, Markieff spent his first two seasons at KU overshadowed by two-time Big 12 defensive player of the year Cole Aldrich. He was on the floor a little more than 15 minutes per game and spent the rest of the time working tirelessly with his brother in the weight room and the gym, making sure that he would be ready when his shot finally came.
"He never cried about it," Marcus said. "People say he's the most improved player in the country, but I thought he was there all along. They just didn't get the chance to see it, but now they do."
Though the Morris twins go everywhere and do everything together, some might wonder if there were moments when Markieff complained about his role. Angel doesn't have to wonder.
"Nope. Never," she said. "Both of them would've come to me if he was down."
Markieff said he learned a variety of tricks from Aldrich, whom he still talks to on a regular basis. A lot about defense. A lot about basketball. A lot about composure and dominating with force while playing for fun. Because of it, he developed into the college player he is today at his own pace.
"Being behind Cole made me who I am," Markieff said. "I learned a lot, and I always just tried to take it one step at a time. Even though I don't ever want to have anything given to me, I feel like I waited my time and I deserved it."
Added KU senior Tyrel Reed, who similarly followed the path of paid dues to adoration and appreciation: "I think he's just kind of taken everything in stride. It came a little bit easier for Marcus, but I think that kind of lifted Markieff's game."
As his notoriety has risen and people across the nation have gotten used to having to differentiate between which Morris twin they're referencing when talking KU hoops, Markieff has clung to the laid-back personality that has made him one of the most likable guys in the KU locker room. That's off the court. On the court, at the urging of his coaches, Markieff finally has started to resemble the monster he was in high school.
"He's so smart, in terms of basketball savvy, that he'll just take the two points. He doesn't care about the flash," Brinkley said. "But coach (Bill) Self and coach (Danny) Manning and I just implored him to dunk the ball emphatically to show that that is part of his game, the nasty and the power and such. That's the one change I've seen in him this year; you're seeing that he's attacking the rim much more, and he looks like a much bigger presence because of it."
Thanks to the endless hours in the gym, and because Markieff had the patience to allow it to pay off, it's no longer just those close to KU who see "the other twin" looks even more like his brother than they realized.
"I always thought Marcus definitely had a chance, and I thought Markieff had the tools, but I didn't know," said Boston University coach Patrick Chambers, who recruited the twins to Villanova. "Now, I can say they both have serious NBA potential. Kansas has done an unbelievable job with Markieff. He's become a big-time player."