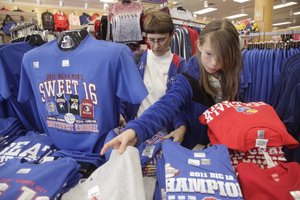 Rick Renfro, the owner of Johnny's Tavern in Lawrence, knows that for the Lawrence economy, March Madness can bring forth a bumper crop of spending or can mean a significant famine.
After all, he said, it's not just head basketball coach Bill Self's $3 million contract that's riding on the tournament performance of KU's basketball players, who are typically 19 to 22 years old (even though guard Brady Morningstar is 25 this year).
"I think all of us that live in a college town are affected by it, too," he said.
That's certainly true of the bar industry, which can either ebb, like after last year's KU loss to Northern Iowa, or flow, like during the 2008 title run.
"If we win, it carries over for, I would say, weeks after the championship game," Renfro said. "People are in a better mood and are more willing to go out."
And losing certainly carries negative effects, too, said Brian Hoffman, owner of The Sports Dome, 1000 Mass.
His T-shirt business definitely suffers, but it isn't the only one, he said.
"Downtown was dead for about six weeks," after last year's loss to Northern Iowa, he said. "And you couldn't sell anything that had KU on it."
Championships certainly help, he said. Two hundred pre-ordered 2008 championship shirts didn't last more than 40 minutes, he said.
And it's felt all over the economy. For example, Renfro said he was talking to a person who would rent him tables and chairs. If KU didn't win, he wouldn't need the extra furniture.
That means his table connection wouldn't work his hours and wouldn't be earning as much as he would otherwise.
The ripple effect spreads all over town, said Judy Billings, president of Destination Management Inc., which oversees the Lawrence Convention and Visitors Bureau. The overall effect, though, is somewhat hard to quantify, she said.
Look at it simply in the terms of free advertising and exposure, she said. Basketball success breeds things like that Coke Zero commercial that features the Rock Chalk Chant and crimson and blue fans swaying in the crowd with shots of Allen Fieldhouse.
People don't forget the Jayhawk, KU's distinctive mascot, and they do tend to equate it with Lawrence, she said.
"You can't buy that kind of advertising and exposure for the community and the university," she said.
During the Final Four, hotel rooms tend to fill up as people flock to Lawrence to stay the night to watch the games, she said.
"They like to be in the place where the celebration is going on," she said.
Grocery stores see an increase in food and beverage sales as people host watch parties at their homes for friends. Billings said she had such a party planned herself.
In Lawrence, even the people who usually don't follow it at all seem to have basketball on the brain these days, she said.
"Everybody's a basketball fan this time of year," she said.