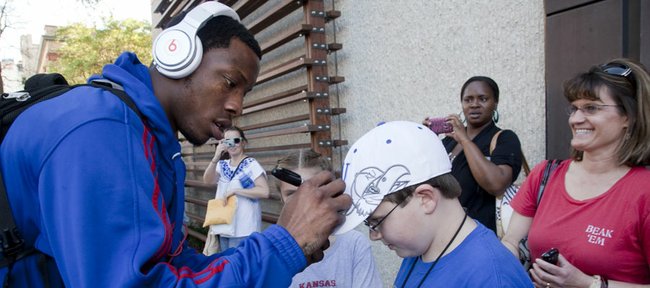 San Antonio — Police car sirens blared as Kansas University's basketball team bus pulled in front of the Hyatt Regency Riverwalk Hotel at 5:59 p.m. Wednesday in sunny south-central Texas.
The Jayhawks arrived in style. City officials made sure the top-seeded team in the NCAA Tournament's Southwest Regional was escorted safely from the airport to its team headquarters.
"This is one of my favorite cities," Kansas coach Bill Self said after exiting the bus. He has special memories from 2008 when the Jayhawks defeated North Carolina and Memphis at the Alamodome to win the national title.
"It could definitely solidify that ranking in my mind with a good performance this weekend," Self added.
The Jayhawks (34-2), who will hold an open practice from 2:10 to 3 p.m. today at the Alamodome, will meet No. 12 seed Richmond (29-7) at 6:27 p.m. Friday in the dome. The winner advances to Sunday's Elite Eight game against either No. 10 seed Florida State or No. 11 VCU. That game would start at either 1:10 p.m. or 4 p.m.
"There will be memories one way or another," Self said of KU's encore trip to San Antonio. "They just need to be good memories. We need to play well. In order to that, we need to improve from last weekend in Tulsa, even though we played fine (in beating Boston and Illinois).
"There's another step we can take and get better. I'm excited about it. Our players will be fired up as well," Self added.
Self and the Jayhawks left the team hotel for dinner downtown shortly after checking in the hotel on Wednesday night.
"After that we'll be in lockdown mode," Self said. "I will not let the guys get out (amid distractions with fans mobbing San Antonio's famed Riverwalk).
"The further you go, the more attention you get," Self added. "Our guys have to understand that and pace themselves to be honest, because you can wear it out this time of year if you are not careful. Our guys will stay off their feet. We'll make them available to you guys (media), other than that, you've got to relax."
The Jayhawks are hoping for a four-night stay in a hotel for the second straight week.
"A little bit," junior Marcus Morris said, asked if life on the road can be taxing at times. "I mean, just sleeping in those beds, my back kind of hurts now. I feel we have fun on these trips. I don't feel pressure at all. We are cool, we just need to play how we are supposed to play and how we know how to play."
Of spending so much time in a hotel this time of year, junior guard Tyshawn Taylor said: "It's not a vacation. I am not at the hotel to go out. I am there to play basketball. Being around my teammates and chillin' at the hotel, that's what we do. We're used to it. It's not like it's something new. We've been doing it a while now. As trapped as I feel sometimes, I understand why we do what we do."
Healthy: Self said the Jayhawks enter today's practice in good health.
"We're as good as we've been," Self said, citing no illnesses or new injuries.
Self on Missouri coach Mike Anderson leaving for Arkansas: "I like Mike. He's been good for Mizzou, no question about that. He's done a really good job," Self said, indicating he hoped Anderson "does what's best for he and his family."
He said the Tigers would be able to "find a great quality candidate to replace him."
Recruiting: Otto Porter, a 6-8 senior forward from Scott County Central High in Sikeston, Mo., tells Rivals.com he is planning on visiting KU and Georgetown in the coming weeks. He had been considered a likely Missouri signee prior to Anderson's decision to leave MU. Porter is Rivals.com's No. 97-rated player. KU is expected to land another recruit who was strongly considering MU. He's No. 17-rated Ben McLemore, a 6-5 senior from St. Louis, who will choose between KU and MU at the NeXt All-American Classic on April 3 in suburban Chicago. McLemore has long been considered a heavy KU lean.
More like this story on KUsports.com