Wednesday, March 23, 2011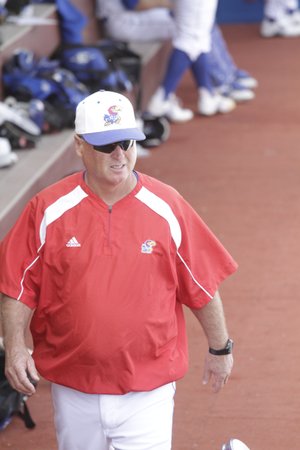 Ritch Price didn't begin coaching for personal accolades.
For Price, in his ninth year as Kansas University's baseball coach, it's always been about teaching the game he loves to generations of young ballplayers and watching them blossom.
Some accomplishments, though, are too big to go unnoticed.
Price reached the 500-win plateau as a Division I coach on Tuesday as the Jayhawks won their third straight, topping Arkansas-Little Rock 5-3 on a blustery afternoon at Hoglund Ballpark.
"I think the first thing you realize is it means you're getting really old," said Price, who has racked up 283 victories since coming to KU in 2002, after spending eight years as the head coach at California Polytechnic State University.
"There's nobody in America more honored to be where they are as a coach than where I am," a beaming Price added. "I spent my whole career trying to get to a BCS school, and I absolutely love (KU)."
Several of his current players were unaware of the potential milestone leading up to the game, but Price said he entered the locker room to find around 27 congratulatory texts from former players waiting on his cell phone.
It wasn't long after the game that any Jayhawk still unaware of the landmark win found out, as Price was presented a commemorative bat by interim AD Sean Lester on the field.
"It's always good when you play for a coach that has accomplished so much," senior pitcher Wally Marciel said. "Playing for Skip has always been a great, great dream for me."
Marciel pitched the first 4 1⁄3 innings to earn the win for KU (10-10), who jumped ahead 4-0 after a three-run third inning, capped by a two-run double by Zac Elgie.
The only real blip on Marciel's line was a solo home run to left field in the fifth, a seemingly routine fly ball aided by a strong gust of wind.
"The wind was just blowing my fastball everywhere," said Marciel, who was on a strict pitch count in order to pitch again this weekend. "So I told (pitching coach Ryan Graves) why don't we just throw my changeup?"
After the Trojans pushed across their three-runs in the fifth to get within 4-3, KU's bullpen held firm while the Jayhawks plated an insurance run on an RBI groundout by Kevin Kuntz.
Kuntz and Elgie each tallied two of KU's eight hits, and the team batting average climbed to .230 after a sluggish start to the season at the plate.
"(Balls are) just finding holes now," Kuntz said. "I think that's the key."
While the process and preparation at the plate has remained the same, as the hits have begun to pile up and the individual batting averages have started to climb, Price has noticed an improvement in demeanor in the dugout.
"I think the thing is, we're playing at a really high level now," Price said. "We're playing well defensively, we're pitching to contact, we're making big outs when we need them, we're executing our offense, getting runs without base hits, and starting to get warmed up with the bats."
As the Jayhawks (10-10) prepare for a three-game series at Texas A&M this weekend, Price doesn't have any lavish celebration planned following his 500th win.
He'll simply call his three sons — Ritchie, Ryne, and Robby — and enjoy the evening with his wife, Cindy.