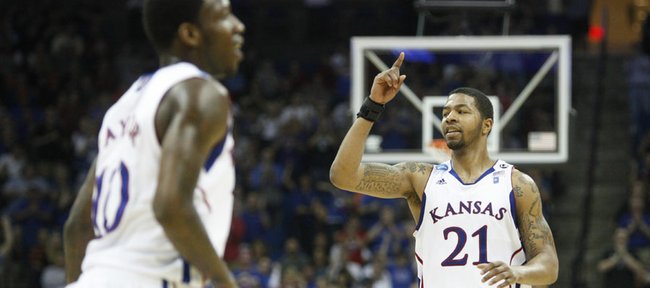 Tulsa, Okla. — Kansas University's offense was stagnant toward the end of the first half, and KU coach Bill Self told his players he believed he knew why.
At halftime of the Jayhawks' 73-59 victory over Illinois on Sunday, Self told his guards that they needed to be tougher, as Illinois' guards were pushing them toward midcourt — and out of their offense.
"No one's going to say, 'Hey, I thought that Kansas played the ball screen great in the second half, and that's why they won the game,'" KU senior guard Tyrel Reed said, "but, in essence, I thought we did a good job."
Because KU's guards were more physical in the second half — and came around ball screens shoulder-to-shoulder with their screen-setting teammates at the three-point line — the Jayhawks were able to get some easy baskets off the pick-and-roll.
A few times, KU guard Brady Morningstar wrapped around a ball screen then dropped a bounce pass for either Marcus or Markieff Morris, who finished the play with a layup or slam.
The play works best when the KU guard comes around the ball screen, acts like he is attacking the rim to draw both defenders, then quickly drops off the pass to his unguarded teammate.
KU's guards work on that particular bounce pass every day in practice.
"It's the toughest thing to guard. It really is," Reed said of the pick-and-roll. "If you've got a great point guard that can make plays — and I think all of our guards can make plays — it's tough to stop."
It's especially difficult to defend because of the versatility of the Morris twins.
Because the two juniors can drive and also hit three-pointers, opponents have to respect them on cuts to the basket and also when they pop out to the perimeter.
"They work it so well. The brothers know each other — the actions and things like that," Illinois center Mike Tisdale said. "Their guards were giving them the ball in good spots."
Reed said KU's ball-screen defense also was improved against Illinois.
Not only were KU's guards sticking to their men better on ball screens, the big men were doing a better job of hedging — or switching for a second before quickly recovering to get back to their original men.
"That's what we practice every day," Reed said. "When we do it right, we're a pretty good defensive team."