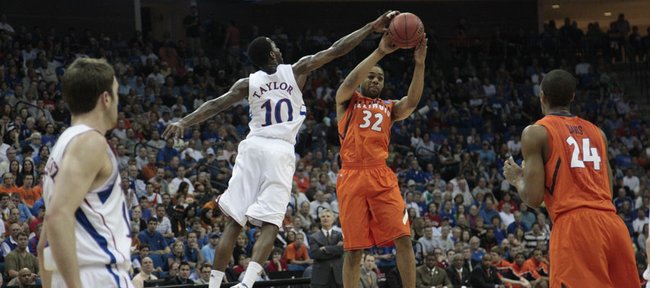 Tulsa, Okla. — Of all the players in college basketball and all the games shown on television this year from which he could choose, Kansas University guard Elijah Johnson probably watched more minutes played by Illinois' senior Demetri McCamey than anyone.
Johnson's familiarity with McCamey's game paid off big-time Sunday at the BOK Center, where KU knocked off Illinois, 73-59, and advanced to the Sweet 16.
Two nights after watching the rugged, 6-foot-3, 200-pound guard torch UNLV for 17 points and seven assists on 7-of-13 shooting, Kansas held McCamey to six points on 2-of-9 shooting in 36 minutes. His final bucket came on a layup with 2:15 to play and Kansas leading 66-51.
"That was the key for us. Definitely defensively," said junior guard Tyshawn Taylor, who drew the defensive assignment from the jump. "Cut the head off, and the rest of the body follows. He's the key to their team, and that's what we had to do."
Early on, Taylor used length and quickness to frustrate McCamey and keep him from being much of a factor. But two first-half fouls sent Taylor to the bench. That's when Johnson got his shot to pick up where Taylor left off.
"Tyshawn did a great job on him to start, and then he got in foul trouble, and I told him, 'Just because you're in foul trouble ... he's gotta deal with another problem,'" Johnson said.
That problem was Johnson, who hit McCamey with a dose of toughness that added to the toll Taylor's quickness, length and athleticism already had taken.
Johnson first checked in with 14:19 remaining in the first half. He didn't check out until the clock showed 1:50. Even then, Johnson only sat for 40 seconds, checking back in at the 1:10 mark to finish the half.
"I watched him a whole lot this year, every chance I got," Johnson said of McCamey. "I just watched him and learned. He's good. He can teach you just from watching him on TV. So when I heard that I was going to get a chance to play him, I was so psyched about it. I was looking forward to it."
Although Johnson and Taylor were given the bulk of the credit for slowing down the Illini's leading scorer, McCamey said the credit belonged elsewhere.
"I don't think it was just two guys," McCamey said. "Their whole team played great defense, and they collapsed on me every time I tried to get into the paint."
The key, Johnson and Taylor said, was staying in front of McCamey and not allowing him to play games with them.
"He's so crafty with the ball, and he can make some good fakes, so the key was just to stay down and be a solid defender," Taylor said.
Added Johnson: "We didn't want to let him get too comfortable. After a while, he wasn't into it too much, and that's when we had to turn it up even more."
In reality, the two KU guards had the defensive dial cranked all the way to the right from the opening tip, something that did not go unnoticed.
"Hey, our guards were great," KU coach Bill Self said. "I believe when the other team's best player (is) a point guard, you've got to do a great job on him. Those guys did a great job on him."
More like this story on KUsports.com