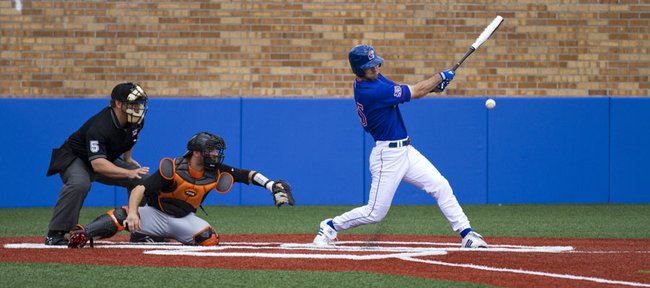 Senior Jimmy Waters went 3-for-4 and drove in what proved to be the winning run as Kansas knocked off Oklahoma State, 5-4, to sweep a Big 12 baseball doubleheader Sunday at Hoglund Ballpark. KU won the first game, 7-2.
Kansas improved to 9-10 on the season and 2-1 in the Big 12 with the victory. The loss dropped the Cowboys to 14-5 on the season and 1-2 in the Big 12. This is the third straight year the Jayhawks have won their first Big 12 series of the season.
"I'm really proud of how mature we were this weekend," KU coach Ritch Price said. "We showed some toughness, and we grinded through all three days of the series. I think it shows the progress that we've made in the last four weeks. We've played a really difficult schedule to prepare for this weekend, and I think you just saw the benefit of it."
The Cowboys made one last attempt at a rally in the top of the ninth as catcher Jared Womack made it 5-4 with a sacrifice fly. The Cowboys put runners on the corners with two outs, but Kansas reliever Colton Murray shut down the OSU offense, getting right fielder Randy McCurry to fly out to right to end the game.
Murray earned his second victory, pitching four innings of relief and allowing two runs on five hits.
Freshman Alex Cox pitched five innings, giving up two runs on eight hits with six strikeouts.
Waters and Elgie both enjoyed multi-hit and multi-RBI days.
In the first game, Waters' three-run triple in the fourth inning led the Jayhawks.
"I was on deck, and I was just hoping that (Casey) Lytle was going to get on, because I wanted an opportunity to try to salvage some of the slow start. I put a good swing on a changeup that hung. I'm just really happy that the ball fell in for me, because I thought I hit it well enough to get out of the ballpark. It just fell in the gap. It was a big hit for us and a big blow for them."
KU starter Tanner Poppe pitched seven strong innings, surrendering two runs on seven hits with three walks and three strikeouts. In relief, freshman Frank Duncan went two innings, giving up just one hit and striking out three.
Chris Manship went 2-for-4 with an RBI.
"We've played in a lot of close games and really struggled swinging the bats. Today, we broke out with the bats; I think we had seven two-out RBIs in the game one win."
Kansas will take on Arkansas-Little Rock at 3 p.m. Tuesday at Hoglund Ballpark.
More like this story on KUsports.com