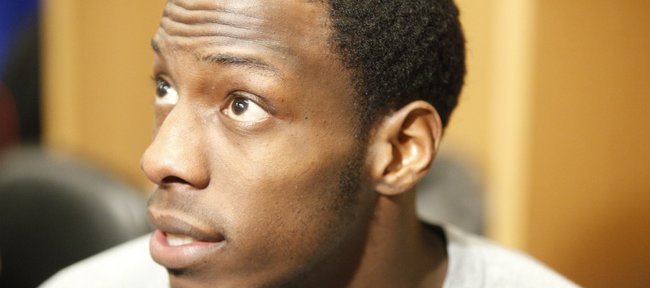 Videos
Pregame: KU vs. Illinois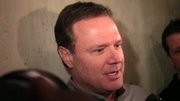 Kansas and Illinois face off in the third round of the 2011 NCAA Tournament on Sunday, March 20, 2011.
Tulsa, Okla. — With 8:06 left in the second half of Friday's game against Boston University, Kansas University guard Tyshawn Taylor came around a ball screen and found himself wide-open.
Taylor admits one or two years ago, he probably would have passed up the open three-pointer.
"I never felt like I was a bad shooter," Taylor said. "I just wasn't shooting the ball with confidence."
He is now.
On this occasion, Taylor stepped into the three-pointer and swished it, contributing to a 13-2 KU run.
The junior point guard hasn't been hesitant to put up deep shots lately. In his last seven games, he has combined to go 8-for-14 (57.1 percent) from three-point range.
His season three-point percentage is up to 39.1 percent after shooting 33.9 percent a year ago.
Taylor said he's always been told by KU coach Bill Self to shoot it when he's open.
"I've just got to get my feet set," Taylor said. "I'm a good set shooter."
When he misses threes, Taylor said there's usually a cause. He's either rushing his shot, fading away, not holding his follow-through or watching the ball instead of focusing on the rim.
Through repetition in practice, he has found a comfort level. It also has helped that he has become accustomed to a new way of shooting.
Over the summer, Taylor dislocated his right ring finger while pushing a player on defense at the Adidas Nations Experience in Chicago.
After he returned to Lawrence, the finger continued to pop out of place, usually when he reached for steals. Taylor dislocated it again during an early KU practice, and since then he has been taping his middle and ring fingers together for practices and games.
"It doesn't really affect me playing," Taylor said. "It hurts sometimes, and it's annoying. It's more of an annoying pain, like I wish I didn't have to do this."
The knuckle on Taylor's ring finger remains swollen, and though he says he doesn't feel any soreness while he's playing because of adrenaline, often he feels a sharp pain in his knuckle immediately after games.
There are also times the finger locks up on him postgame. Taylor said that KU trainer Bill Cowgill has told him there's a possibility he might need surgery after the season to repair ligament tears.
Taylor had to change his shooting form over time because he felt like, with his fingers taped, he wasn't getting enough rotation on his shots.
"You're supposed to use your fingertips to shoot, to pass, to dribble," Taylor said, "and I'm using my palm for a lot of stuff that people use their fingertips for."
After a season with the new technique, Taylor has conditioned himself to guide his shot with his index finger.
When he hits threes, KU's offense becomes even more dangerous.
Oftentimes, Taylor is left open on the perimeter when his defender leaves to help guard Marcus or Markieff Morris in the paint.
Also, when Taylor makes his outside shots, defenders have to come out farther from the basket to guard him, which opens up driving lanes.
"I get a lot of those (three-point) shots," Taylor said. "I've just got to be able to step up and make them."