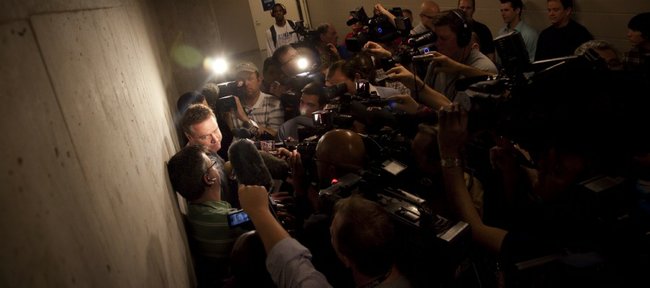 Videos
Pregame: KU vs. Illinois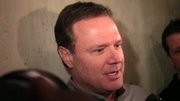 Kansas and Illinois face off in the third round of the 2011 NCAA Tournament on Sunday, March 20, 2011.
Tulsa, Okla. — Marcus Morris plans to huddle with his Kansas University basketball teammates sometime before tipoff tonight and remind the Jayhawks it's time to win one for their coach.
"Definitely, man ... you don't want to let that guy down," he said of Bill Self, who at 7:40 p.m., in BOK Center, coaches against his former school, the University of Illinois, for the first time.
"He's been through a whole lot with us. We want to go out there and play hard for him. He might not say anything about it, but I think it means a whole lot to him. I just want to get the 'W' for him," Morris, KU's junior forward from Philadelphia, added.
Self — who admitted "in my mind, I'm probably a little bit more amped up and watched a little more tape, just like I'm sure they have been doing, too" — was peppered with personal questions Saturday about his top-seeded Jayhawks (33-2) going against the No. 9-seed Illini (20-13), a school he led for three seasons (2001-03).
"I think eight years is a long time. I don't think too many people would be hung up on it," Self said, in the next breath, adding, "They would like nothing more than to clean our clock. We understand that. And from our standpoint, we'd like nothing more than to beat them because it would allow us to advance (to Friday's Sweet 16 game against Richmond in San Antonio)."
Some of the Illinois media horde covering the tournament informed Self that there indeed is some lingering fan resentment over his departure back in Champaign, Ill.
"People are entitled to think and feel however they want to feel. That's why they call them opinions," said Self, who led Illinois to a three-year record of 78-24, a run that included two Big Ten titles and spots in the NCAA second round, Sweet 16 and Elite Eight.
"When you invest in a situation and you ask people to invest back to make it a better situation and when you leave … I can certainly understand why people would feel that way. I don't say I totally agree with it, but that is life," added Self, who felt the wrath of Illini fans in emails, that "stopped flooding in two or three years after I left. There haven't been many since then."
He actually loves the passion of Illini fans.
"What we did when I was there, even though it was just a brief period of time, I thought we got the entire Illini nation to rally around what we were trying to do, and it made it a lot of fun," Self said. "I think they had fun following it. Bruce was able to take it to another level right after we left."
Self's successor, Bruce Weber, led the Illini to an undisputed Big Ten title his first year and spot in the NCAA title game his second season.
Weber, who left Southern Illinois for U of I, showed some thin skin his first year in Champaign.
Sick of people talking about his predecessor, he wore black before a game and held a mock funeral for Self.
At the funeral, Weber said: "It's the end of Bill Self. It's over. There's no more comparing. He's gone. No more talking about it. I'll be honest. I'm fed up with it."
Both parties discussed the winter of 2003 funeral on Saturday.
"That's the only time my wife has been excited when I answered the phone," Self quipped of wife, Cindy, who called to make sure he was indeed alive.
"I don't know the context in which some things were handled. I believe in coaching, people do things to benefit their situation. I've done it. Everybody has done it. It was one of those things maybe needed to be done at the time. It happens. This is a 'big boy game,' so to speak. Whatever was said or done, that was not a big deal. I had enough stuff to worry about at KU than worry about other places."
Weber said the funeral, "was a compliment to (Self), to be honest. How he captured the players, the fans and what he did at Illinois. Somehow I had to say, 'Hey, we've got to move forward.' I always joked I could never understand people were mad at me because he left. And I had to deal with that.
"Part of it I did for our players, too, because eight games into the season, people are still asking about Bill Self. Hey, we've got to stop this. We have a team, and we made a big push. First outright (Big Ten) championship in 52 years. I had to deal with a little bit of heat when I did it, but maybe it works, I guess, in the long run."
Self said he's not close to Weber, but respects the job he's done. Of Self, Weber said: "I wouldn't say he's one of my best friends, but we have a cordial relationship."
Just as Self has no problem with Weber, he said he also holds no animosity toward Illinois AD Ron Guenther, who ripped Self publicly for leaving U of I and reportedly ordered Self and his staff out of their offices one day after Self accepted the KU job.
"He was not a good AD. He was a great AD," Self stressed Saturday, indicating he only has visited with Guenther once since leaving Illinois — at a Jerry Colangelo fundraiser in Chicago.
"I think he is proud of his school and his alma mater. I think anybody that fights for what they believe in, and that's their passion and job, of course, you have a right to feel a certain way. He may have been (angry at Self leaving). I think that was probably the case for sure. At least it was let known to me that it was initially, but when you go 37-2 and go to the national championship game (under Weber) a couple years later, I would think that would take a little bit of the sting off it."
Self realizes this is more a big deal to U of I fans than KU fans.
"I don't think it's a big deal in Kansas because I came to Kansas," Self said. "Just like it would not be a big deal in North Carolina when they played Kansas, but it was a big deal to our people."
That was in the 2008 Final Four when Self's Jayhawks downed former KU coach Roy Williams' Tar Heels in the national semifinals.
No former Williams players were on that KU team, just as no former Self players are on the current Illini squad.
"I don't think the fans really care about coach Self anymore," Illini senior guard Demetri McCamey said. "It's been eight years. They just worry about us being successful in the tournament."
Noted senior center Mike Tisdale: "He is a coach, and coach Weber is a coach. We're going to do our best on the court and talk about all of the stories afterwards."
Self hasn't even mentioned to his troops he's going against his former team. Players like Marcus Morris have figured it out for themselves.
"Coach has not said a word," noted freshman Josh Selby, adding, "I'd say 50 percent is win it for coach, and 50 percent is win it for us and our fans. We want to move on."
"We know coach Self coached there years back," sophomore Thomas Robinson said, "but to be honest, coach Self doesn't talk about that. Besides him talking about (former U of I guard) Deron Williams and stuff like that, I haven't heard too much. It was long ago when he coached. This isn't about that."
"He hasn't said anything," noted senior Brady Morningstar, "but as far as us playing his old team, I'm excited for us and excited for him. It would be a good win for him."
One of Self's former KU and U of I assistants isn't surprised Self has ignored the personal aspect of today's Round of 32 game.
"Coach doesn't get caught up in that stuff," Norm Roberts said in a phone interview. "Those are all coach Weber's kids now at Illinois. It'd be much different if it was Dee Brown and Deron Williams and those guys. That'd be a whole different scenario. This is just KU against Illinois.
"We had a great time in Illinois. The people there were great, cordial, treated us so well. It's a great state and great school for basketball. I'd say this is not just another game, but it's the next step to get to the Sweet 16, and I know coach will focus on that and nothing else."
• A previous version of this story was updated.
More like this story on KUsports.com