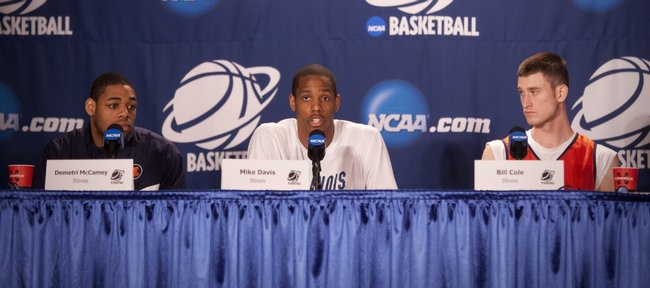 Videos
Pregame: KU vs. Illinois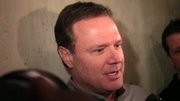 Kansas and Illinois face off in the third round of the 2011 NCAA Tournament on Sunday, March 20, 2011.
Tulsa, Okla. — One grew up in Oklahoma and has known Kansas University basketball coach Bill Self for years. Two others played for Self at Illinois, with one later coaching under him for a season at KU. Yet another member of Illinois' coaching staff spent time on Self's staff when he was at Illinois from 2001-03.
The fact that Illinois coach Bruce Weber was the man who replaced Self may have been one of the hottest topics heading into today's third-round NCAA Tournament game between the two programs, but there are nearly a dozen other connections between the two schools that make for much better stories.
Take UI assistant coach Jay Price, for instance. A native of Oklahoma City, Price has known Self, of Edmond, Okla., since their youth. Beyond that, Price has done something at Kansas that Self hasn't — sat on the KU bench during two national championship games.
A 1991 graduate of KU, Price chose to attend Kansas because of the reputation of its journalism school and the fact that then-coach Larry Brown said he'd let him work with the basketball team.
"The first year I was there, we won the national championship," Price said of KU's triumph in 1988. "And my last year there, we finished second to Duke."
Those are just two on a laundry list of fond memories that Price has of his time at Kansas, many of which have come roaring back since UI knocked off UNLV on Friday.
"I got a text from my old college roommate (Saturday) that said, 'Good win yesterday, but just so you know, my heart's cheering for KU,'" Price said. "I would expect nothing less."
Though his love for all things Jayhawks is well known throughout the UI locker room, Price said he was not conflicted about whom to root for tonight.
"You're always a fan of the school that you went to, so I always will be a (Kansas) fan," Price said. "I had a great time, got to be around the basketball program and learned, really, what I'm doing now. So there's a good place in my heart for that place. I really enjoyed it. But, obviously, I'm an Illinois fan (today)."
Same goes for UI director of basketball operations Sean Harrington, a four-year letter-winner at Illinois (2000-03) who joined Self's staff at Kansas for the 2004 season. Though he has enough memorable moments with Self to fill a small book, Harrington's allegiance will lie with the Illini tonight.
"It's been a fun weekend, with (UNLV) coach (Lon) Kruger being involved, too," said Harrington, who was coached by Kruger at UI for one season. "So I have connections to all three teams we were dealing with. It's fun to see them, but at the same time it's hard because I want them to do well when they're not playing us, and, obviously, now I want nothing more than for us to win."
Like Price, Harrington also had nothing but great things to say about Self, Lawrence and the Jayhawks.
"Great experience," Harrington said of the year he spent as Self's video coordinator at Kansas. "Their fan base is incredible, and there's a tradition there that you can't deny."
His memories, however, weren't all about basketball.
"He and I both have a love for food," Harrington said of Self. "He joked with me when I was with him out there at Kansas, he said, 'I've heard of the freshman 10, but the post-grad 25, I don't know.' I put a lot of weight on eating barbecue and cheese with him. We had a lot of great times."
Add to this list UI assistant Wayne McClain, now in his 10th year as an assistant coach with the Illini, and Jerrance Howard, who was a back-up point guard for Self's UI teams from 2001-03, and it's easy to see that tonight's match-up, no matter the outcome, will become the latest encounter deposited into the memory bank.
Freshman questionable
Illinois freshman guard, Jereme Richmond, 6-foot-7, 205 pounds, remains a question mark for tonight's game. Richmond, who averaged eight points and five rebounds in 22 minutes per game this season, missed Friday's victory against UNLV because of a violation of unspecified, athletic department and team rules. Weber said Saturday he still did not know if Richmond would return against Kansas.
KU the best of the bunch?
Asked during Saturday's news conference if the Jayhawks would become the best team the Illini had played this season, the UI players who dropped two games to No. 1 Ohio State this season had a tough time giving Kansas the nod.
"It's going to be one of the top teams," senior Demetri McCamey said. "We played against Ohio State, Purdue, Gonzaga. We played against talented teams and high-ranked teams before. It's going to be a tough matchup for us, but we're ready for it."
Added senior forward Mike Davis: "I put them up there with Ohio State. We've been playing a great schedule. We've played 18 tournament teams who are in the tournament right now. So we're prepared."
Seasoned vets
Friday's 73-62 pasting of UNLV was the first NCAA Tournament win for Illinois since the program claimed a first-round victory over Air Force in 2006. That made the postgame celebration especially sweet for the four Illini seniors who had gone their entire careers without tasting victory in the NCAA tourney.
Saturday, Weber talked about the importance of this year's seniors, Bill Cole, Mike Davis, Demetri McCamey and Mike Tisdale, and placed particular importance on McCamey.
"When he plays and plays well, we're a top team in the country," Weber said of his point guard. "We can compete with anybody. You saw it (Friday) night. He took over the game. He made great decisions, got into the defense, had energy, and he guarded. That was the thing I really appreciated. That is kind of extra X-factor with us as a staff. We know he's really into the game when he's defending."
This and that...
Illinois features three players (McCamey 15, Davis 12 and Tisdale 10) who average in double figures and three others who average 7.6 points per game or more.... The Illini out-rebounded opponents 1,147-1,086 this season and recorded a 1.31 assists-to-turnover ratio.... The Illini averaged 71.3 points per game while surrendering 65.1 points per game.... Illinois enters tonight's 7:40 tipoff at 20-13 overall. That record includes a 9-9 mark in the Big Ten, a 14-2 mark at home, a 3-7 record on the road, a 3-4 showing on neutral courts and an 0-2 mark against Big 12 foes... The Illini lost their only overtime game this season, 90-84, versus Texas in the 2K Sports Coaches vs. Cancer Classic in New York, and also lost to Missouri, 75-64, in St. Louis in December.
More like this story on KUsports.com